Many people think of sheer curtains as old-fashioned window treatments appropriate for grandma's house or drawing rooms in Victorian homes. In today's eclectic design schemes, sheers can be used effectively in modern interiors to enhance a look, be it Bohemian, Scandinavian, formal, minimalist or industrial. The range of textures, fabrics and mounting styles gives them an almost infinite versatility appropriate for all types of windows and design styles.
P.S. Sheer Curtains are also known as net or voile curtains in the United Kingdom.
What Are Sheers Exactly?

Sheer window fabrics are lightweight and transparent. A number of fabrics are available, including polyester, organza, cotton, voile, jacquard and georgette. The wide assortment of colors, patterns and textures add to their versatility. Ready-made sheer curtain panels come in a variety of lengths and header styles, including grommet, back-tab and rod pocket. To get a look that complements your interior, you can choose from a wide range of colors, textures, header styles and lengths.

Although sheer window panels filter light, they do not provide privacy because of their transparency. If privacy is not an issue, they can be used as the primary window treatment. To enjoy the light, airy qualities of sheers but add privacy, pair them with heavier drapes, blinds or shades that can be closed at times when you want more privacy.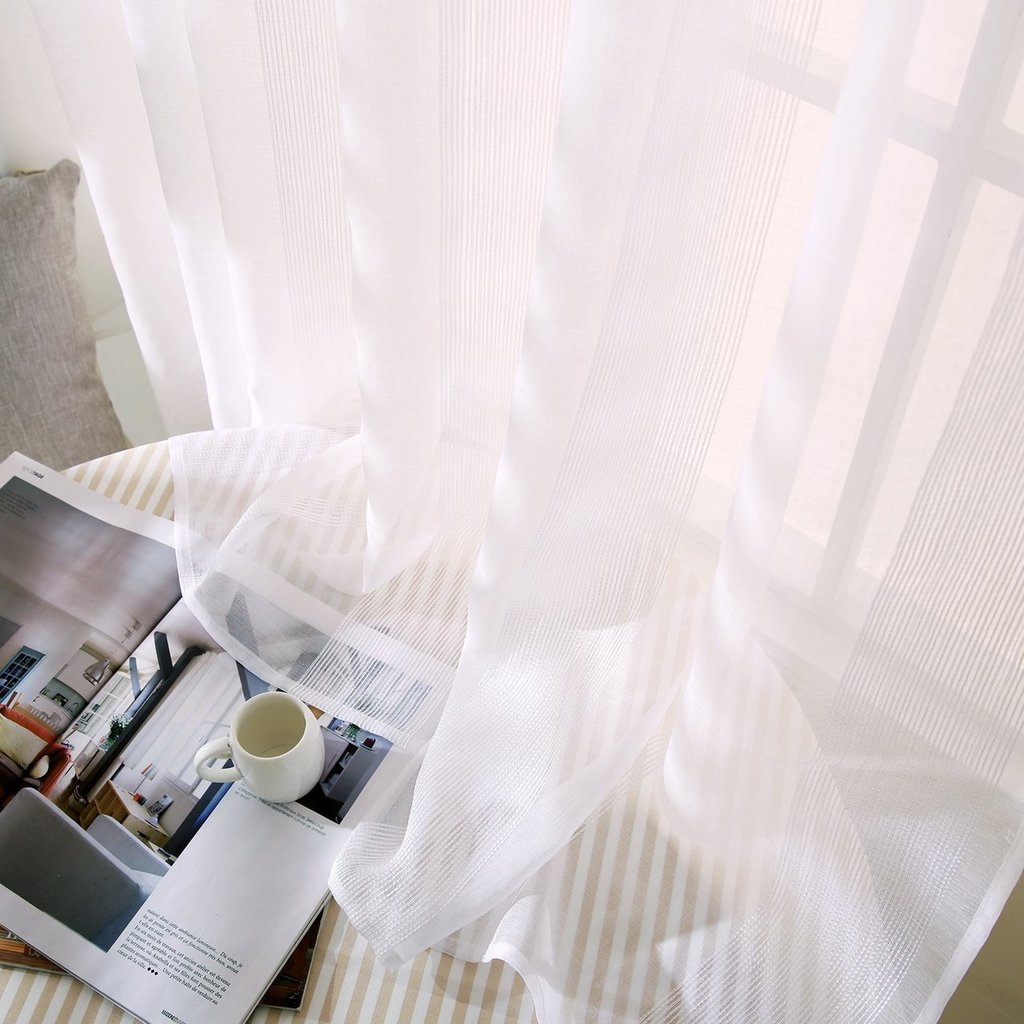 If you prefer window treatments that are less transparent, consider semi-sheer curtains. They are thin enough to allow light to pass through but provide more privacy. Linen, cotton and silk work well as semi-sheers.

Header Styles

The header style of a curtain panel defines the decorative look of the curtain and contributes to the overall décor of a room. Traditional headers feature tailored pleated styles, such as pinch-pleat, pencil-pleat, goblet and reverse pleats. They work well with sheer, semi-sheer and opaque materials.

For a modern look, consider grommet-top curtains. Grommets, also known as eyelets, are rings that are set into the top of the curtain panel. The eyelets create a crisp fold in the curtain material, which gives a clean, modern look. Because this header style is decorative, it works well when sheers are the sole window treatment. If you want to accentuate an ornamental curtain rod and finials, the simplicity of the drop of grommet curtains draws the eye to the attractive features of the hardware.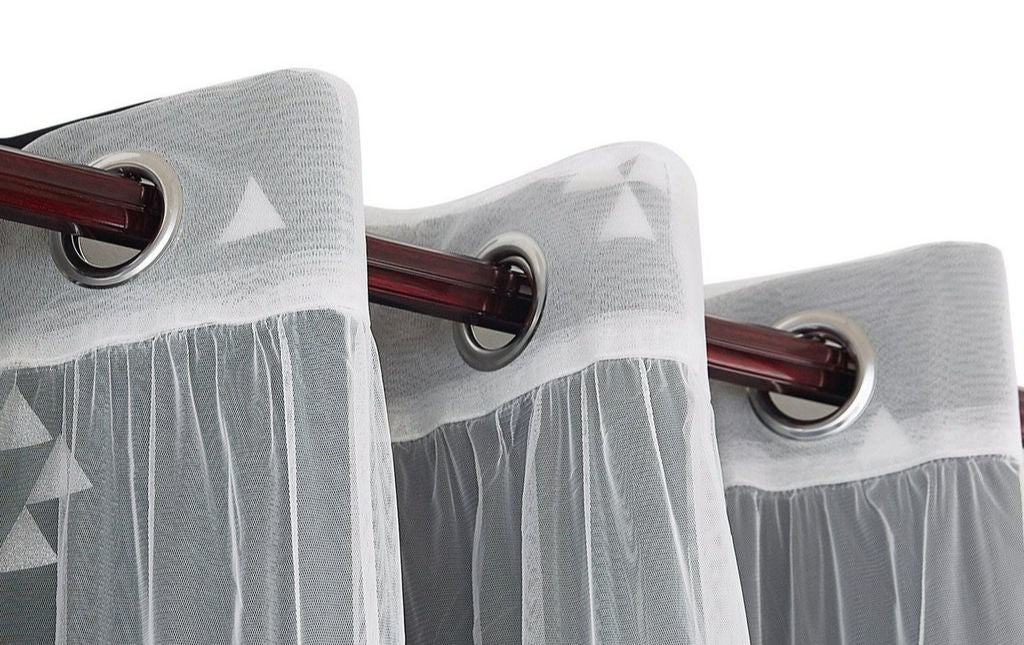 Rings are made from a variety of materials, including plastic, brass, nickel, stainless steel and wood. There are several sizes, shapes and colors of rings, allowing you to customize the look to complement your décor. Try bright rings in a color that accentuates a shade in a painting or other accessory in a minimalist or monochrome interior. Wood complements other organic, earthy elements in the décor, such as wood floors, terracotta knickknacks or rattan furniture. Brass and silver capture light. Using dark rings with white sheer curtains adds drama and interest.

Back-tab curtains give a more classic look to a window. They work well with interior schemes ranging from coastal to formal. Strips of fabric are sewn onto the back side of the panel that create a channel of loops for the rod to slip through. The hidden tabs create a pleated top that sits above the rod. Using a flat rod helps the pleats fall in soft folds. The rod is not visible when heavier, darker fabrics are used. However, the rod can be seen through lighter colors. Hidden tab curtains are usually not opened or closed often because the tabs may be difficult to slide over the rod.

An alternative way to hang hidden tab curtains is to attach rings or clips to the tabs and insert the rod through the rings. In this format, the rod is seen and the pleats fall below the rings. Because the rings slide over the rod easily, this is a good alternative if you want to open and close the curtains.

For a casual look, try tab-top sheers. They work well with Scandinavian, minimalist and Bohemian interiors although they complement almost any decorative style. They also are popular choices for kitchens and children's rooms.

Rod pocket curtains, also known as casement curtains, work with any design style. A channel is sewn on the back of the curtain for the rod to slip through. If the channel is placed a few inches below the top of the curtain, the gathers create a header that sits above the rod. If the top of the channel is even with the top of the panel, the fabric gathers in folds on the rod, creating a soft look. Casement panels can be used as the primary window treatment or be paired with heavier panels.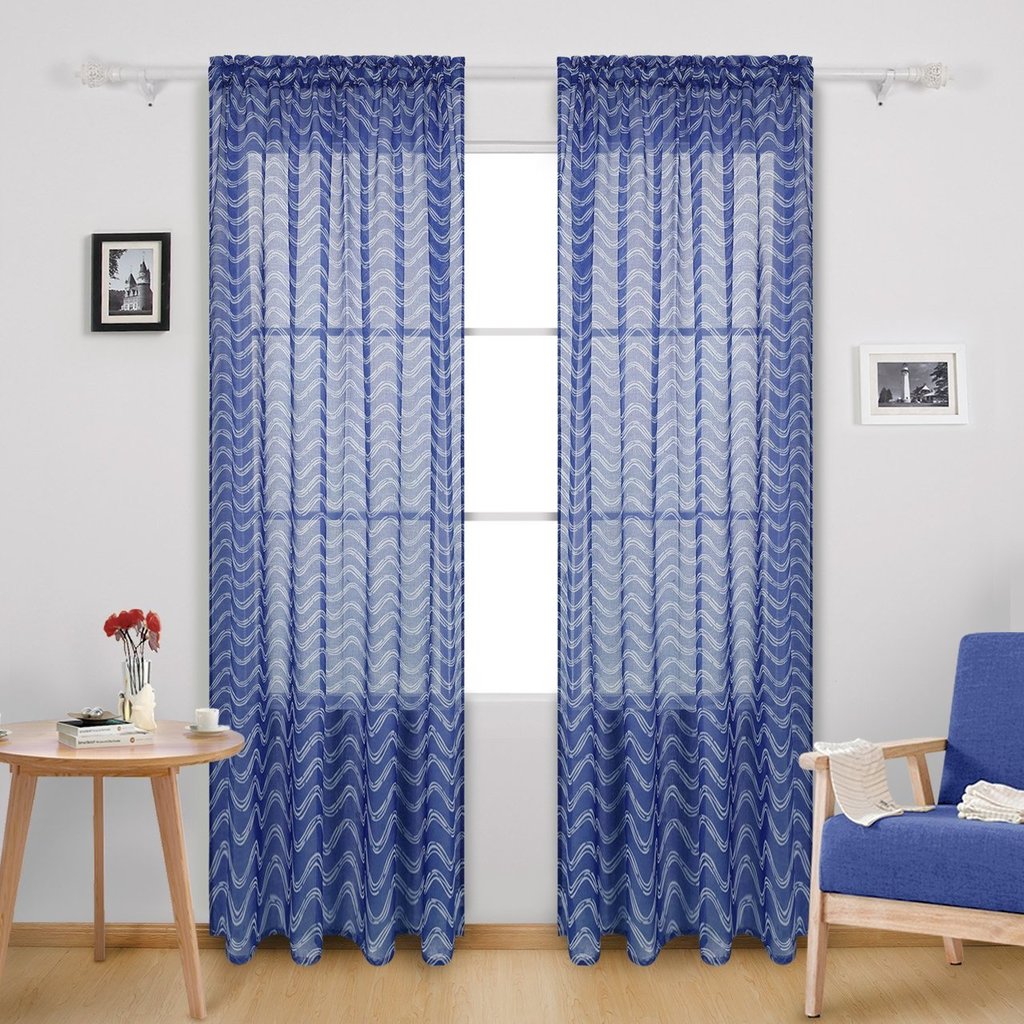 Textures, Patterns and Colors

White is definitely the color of choice for sheers. However, sheer panels are available in many colors, including grey, red, blue, green and black. Colored panels can create a focal point or complement an accent color in the décor. Here, a light shade of grey complements the hues of charcoal, white and black in this stunning room. If you use sheers in a home office, select shades and textures that balance the interplay between work, decorative interest and whimsy.

Pattern is an important element in window treatments. Whether you like the traditional interwoven patterns in lacy sheers or a bold look, pattern can contribute to your design statement. Here, sheers in a geometric pattern add to the tropical look of this poolside verandah. In contrast, this elegant arrangement of three layers of sheers uses color, pattern and texture to complement a decorative window in a formal room.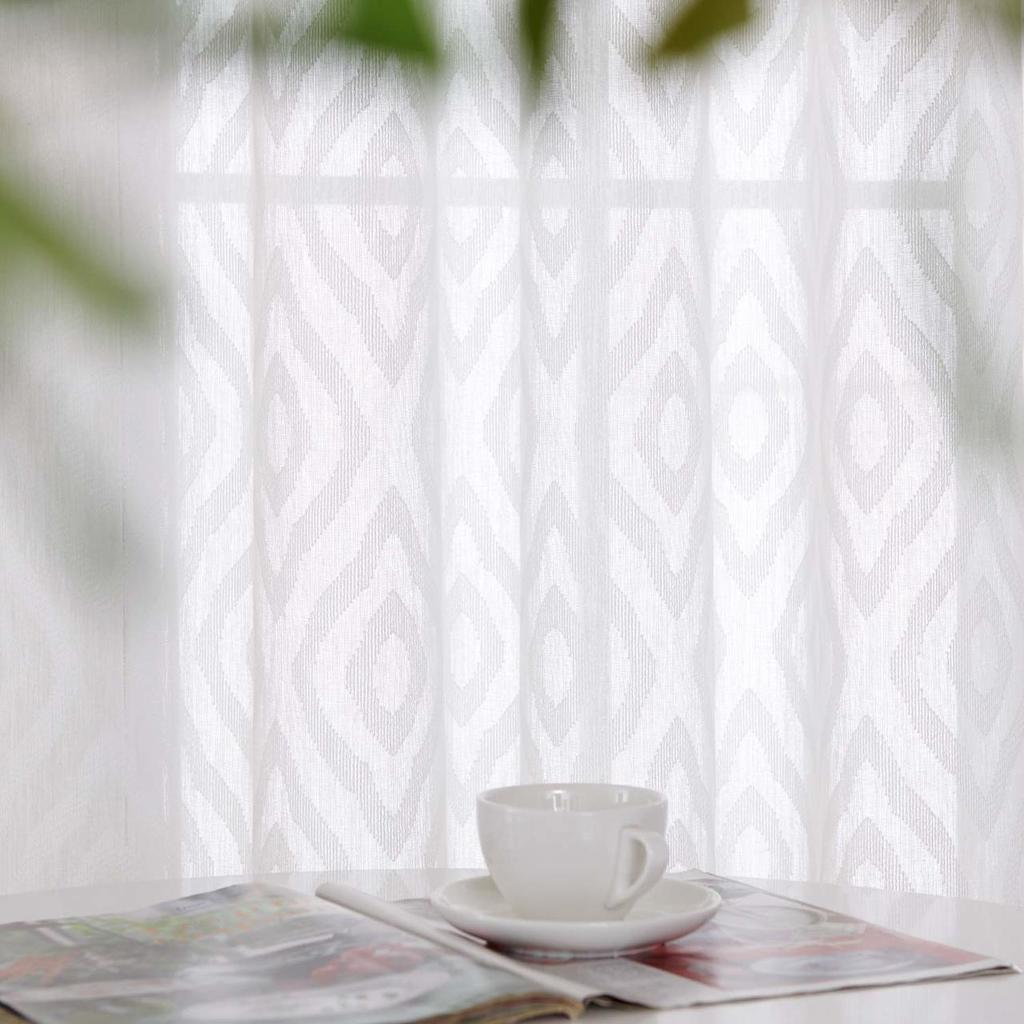 Texture is an often overlooked element that contributes to the effectiveness of a window treatment. Fabrics with texture, such as linen or raw silk, add a subtle layer of interest that gives depth to the décor. Interwoven metallic threads, appliques and nubby yarn can enliven a somber panel. 

Putting It All Together

Today's selection of ready-made sheer curtain panels defies the convention that sheers are dowdy or old-fashioned. Ceiling-to-floor lengths add interest and complement the scale of a room or window. For a simple way to add drama, drape a long panel over a rod. You can play with the lengths of the sides to create the effect you want. For example, puddle one side and let the other extend half way down the opposite side for controlled asymmetry. For a classic look, loop the curtain over the center of the rod and let it drop to the floor on both sides.

Sheers also make interesting room dividers, adding shadow and color to section off areas without making spaces feel too small. They work well in lofts and studios. However, children sharing a room may appreciate the opportunity for privacy.

Sheer curtains are easily integrated into modern decorative styles. If you are redoing your windows, think about sheer options that can enhance the theme of your interior. Look at color, texture, length, mounting style and hardware as you complete the window dressing. When you work with all these elements, the window treatments will be uniquely yours.