A bright, cheery kitchen is a pleasure to work in and an attractive place for friends and family to gather. If you are fortunate enough to have many windows in the kitchen, you may wonder what kitchen window treatments provide both privacy and shade from mid-day heat without blocking light. There are many types of ready-made and custom-made window dressings that work well in kitchens.
There are a few points to consider as you make your selection. If you have several windows, you may want coverings that let you modulate light throughout the day. If you have only one window or a small window, try a style that maximizes natural light.
There are many styles of kitchen window treatments that will complement the décor of your kitchen, including shutters, café curtains, shades and valances. Fabric kitchen curtains come in a wide variety of colors and patterns that can accentuate features and accessories in the room.
The location of the window may also affect your selection. If a window is over the stove, avoid materials that can catch on fire or show grease and food stains. If windows are over the sink, a treatment that covers the top half of the window will avoid splatters.
Finally, consider how easy the window coverings will be to clean. Washable fabric, vinyl blinds and solar shades are easy to clean. Formal curtains with linings or styles with trim may need to be dry cleaned.
Café Kitchen Curtains
Café curtains are a classic style for kitchens. Café curtains work with many decorative schemes, including country, casual and industrial. They are often hung in the lower half of a window, but they can be paired with upper tiers,  valances and swags. They add privacy without blocking light.
Classic café curtains are usually checked or plaid. However, they can be made of any pattern and material. For a formal look, try a neutral, solid color that complements the colors of the room. Dress them up with metal hooks and a matching rod, such as stainless steel, nickel or brass. For a romantic look, try lace or sheers.
Valances, Cornices and Swags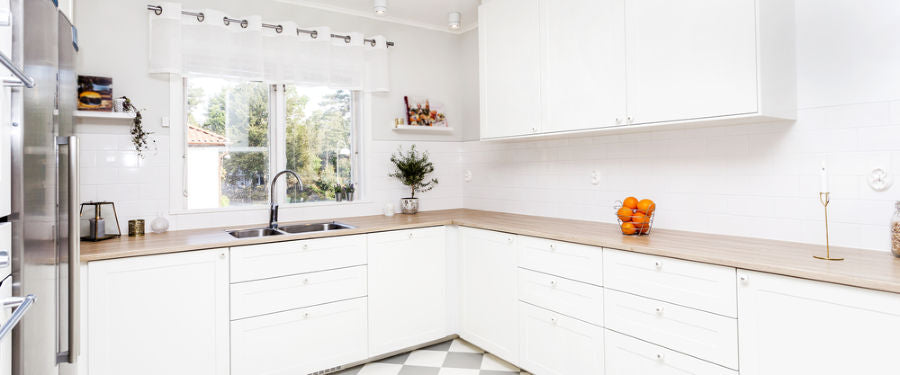 Valances are ideal for kitchens. They let in light and add a decorative touch without overwhelming the space. Hung well above activity areas, they are removed from spatters and fire. Valances can be paired with other window treatments, such as café curtains, shutters and shades. They come in a variety of materials and styles. For a formal look, try gold fabric arranged in wide, full scallops fastened to the rod with ties between the folds. For a minimalist look, simply thread a solid panel onto a tension rod placed between the casings.
Cornices add interest and detail to a window. Cornices can be made of fabric, wood, metal or upholstery. They are crafted in geometric shapes supported by a rigid frame that brings the assemblage out from the wall.
Swags add a romantic touch, cascading down the side of the window and softening the look. They work well with other window treatments, including curtains, valances, shutters and blinds.
Check out the best Curtains for your home. Click here!
Shutters
Shutters add architectural interest to a room. They can cover the entire length of the window or just the bottom half. The louvers modulate incoming light and heat as well as provide privacy. Wooden shutters can be varnished or oiled to bring out the beauty of the wood. However, often they are painted to complement the colors of cabinets or other elements of the room. Painted shutters are easy to clean. Simply wipe them with a damp cloth.
Shades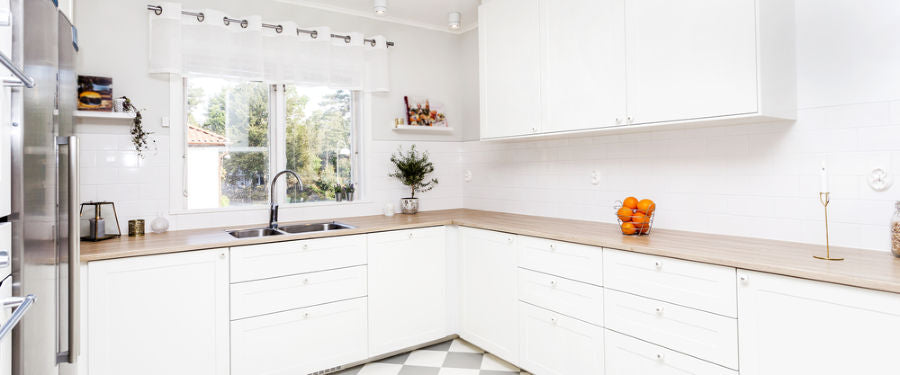 The wide variety of shades let you pick a classic kitchen window covering that can be customized to reflect your look. They work well over messy work areas because they can be rolled up out of the way when needed. During the heat of the day, pull them down to block sunlight. At night, they protect privacy.
Roman shades modulate heat and light and are available in hundreds of patterns and fabrics. When rolled down, they are flat. When pulled up, the scallops add softness to the window.
Woven wooden shades add texture and interest to windows. The natural wood tones complement many design styles and blend well with wood floors, butcher-block countertops and stainless steel décor. Natural woven wooden shades are made from bamboo, jute, grasses, reeds and other plant materials. When rolled down, the slats filter light and add privacy. They look great when topped with a valance.
Roller shades are no longer just bland vinyl sheets on a roller. They come in an array of patterns, colors and materials. The clean lines complement modern design styles but work well with any décor. They modulate light and are available in easy-to-clean materials.
Solar shades add a touch of elegance to a window. The open weave lets you have a view to the outside while blocking glare and heat. They are available in several tones of white, grey, tan, brown and black.
Cellular shades have small pockets like a honeycomb in a beehive that trap air and insulate from heat and light. They are energy-efficient and available in a number of fabrics, colors and textures. The crisp pleats add texture to the window.
Personalized Window Coverings
If you have a flair for décor, let your imagination go free. You can personalize your window treatments using ready-made curtains,  tiebacks, swags and other materials. For a rustic look, hang a wooden board with a painted a message or slogan over the sink. Add curtain hooks to tea towels and hang as café curtains. Use fabric paint to create decorative borders or patterns on roller shades. Add ruffles, trim and contrasting borders to plain curtains to jazz them up.
By carefully selecting your kitchen window coverings, you can add beauty, color, texture and personality to this important room of the house.
Feel free to join in our Affiliate Programs