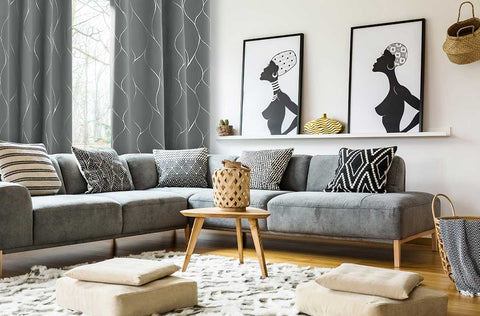 If you are trying to improve energy efficiency in your home or office, you may wonder whether thermal curtains can help? Spoiler alert, the answer is yes they do! Studies show that windows account for approximately 30% of all heat loss in a building. In addition, they are a source of solar gain during hot summer months. Therefore, improving the energy efficiency of windows can reduce fuel use, lower utility bills and improve indoor comfort. 

Although replacing old windows with energy-efficient models is often recommended to reduce heat loss and improve energy efficiency, window replacement is expensive and may require structural modifications. In contrast, thermal curtains are a relatively inexpensive way to control drafts, reduce heat loss by up to 25% in the winter and reduce solar gain by 33% in the summer. Here are the facts about types of thermal curtains, their energy-saving qualities and how to install them for maximum benefit.

What Are Thermal Curtains?

Thermal curtains are made from several layers of materials that provide thermal resistance, known as R-value, and prevent thermal transmittance or conductivity, known as U-value. They are usually constructed in three layers, although two- and four-layer drapes are also on the market.

A decorative fabric layer faces into the room. This layer may be made of any attractive, densely woven material, including cotton, polyester, linen, wool or silk. The middle layer may be made of foam, felt, thick cotton batting, flannel or other thermally resistant material. The third layer, the backing, serves as a lining to protect the inner layer from sunlight. Backings may also serve as a vapor barrier to protect the interior batting from condensation that forms around windows. Light-colored backings reflect light and heat, which reduces solar gain in the summer. Backings may be made of cotton, reflective film, vinyl or other materials. Some insulating curtains have a fourth layer that serves as the vapor barrier.

How Do Thermal Curtains Work?

Thermal curtains create a dead-air space between the window and the room, which reduces the amount of air infiltration and transfer of heat. By installing an insulating curtain over a window, heat is kept inside during the winter. During the summer, heat from the sun is reflected back to the outside. A tight seal limits the amount of heat that can escape through windows and affects how air circulates within a room.

Insulating materials are rated by R-values. The higher the R-value, the better the insulating value. Single-pane windows have low R-values, typically R-1 or less. Insulated windows are generally between R-2 and R-7. In contrast, an insulated wall next to a window may be R-15. Because heat transfer takes the path of least resistance, windows are a natural corridor for heat loss or gain. Standard curtains are generally R-1. However, a properly installed insulating curtain can achieve up to R-6, which significantly reduces heat loss. In addition, the thick fabric absorbs sound.


How Should Thermal Curtains Be Installed?

For thermal curtains to be effective, they must be installed properly. The more air-tight they are, the better they impede the transfer of heat. Thermal curtains should be installed as close to the window frame as possible, making sure to seal the top, sides and bottom. Creating a proper seal around the window can reduce thermal transmittal by about 19%. They are most effective when they drop to the windowsill or floor. Installing a cornice or valance above the drape further reduces the infiltration of air.

For maximum effectiveness, secure the curtain to the frame or adjacent walls with Velcro, magnetic tape or hooks. Curtains should overlap generously in the center. This prevents warm air from infiltrating gaps and flowing out the window. To enhance the thermal effectiveness of the dead-air space, use two or more layers of curtains. Layering also allows you to control light and air.

During the winter, open curtains during the day to make use of the heat of the sun, particularly on windows on the west and south sides of a building. Opening curtains also reduces the buildup of moisture from condensation on the window. When the sun goes down, close them to get the benefit of their insulating properties.

During the summer, close the curtains on windows that receive a lot of sunshine or during the hottest times of day. This keeps cooler air inside. In addition, it protects belongings from fading from sunlight. 
Discover our best thermal curtains. Click here!

Do Thermal Curtains Work in the Summer?

Yes! Thermal curtains work effectively during both winter and summer. Medium- to light-colored curtains with a white, thermally reflective backing can reduce heat gain during the summer by as much as 33% by reflecting solar radiation. The orientation of the window also affects energy efficiency. West- and south-facing windows receive the most solar gain. North-facing windows receive the least. When thermal curtains are properly installed and used, air conditioners can be set back, enhancing energy-savings.

Are Thermal Curtains Also Blackout Curtains?

Although some thermal curtains are constructed to block light, not all thermal curtains are blackout curtains. Many are room-darkening because of the thick materials used. If the middle layer of thermal curtains is black felt or a true blackout material, the drapery will have both blackout and thermal properties.

Blackout curtains are made of tightly woven material that prevents any light from penetrating through the fabric. They usually have thin linings or interiors that are not as effective at blocking heat transfer as thermal curtains. These materials block sunlight, a source of heat, but do not provide the same level of insulation as thermal curtains. However, some blackout curtains are constructed with insulating materials so that they can also be used as thermal curtains.

Will Thermal Curtains Match My Décor?

Although many people associate insulating curtains with drab, unattractive designs and fabrics, today's ready-made thermal curtains are available in a variety of styles, patterns, textures and colors. It is easy to select a thermal curtain that works with your décor. They can also be hung with sheers or other lightweight curtains to give more decorative options.

Thermal drapes are available in a number of styles, including grommet-top, rod-pocket and pleated, that work with many interior styles. They are also available in a range of sizes that fit most windows. Installing thermal window coverings will complement your décor, keep your interior space comfortable and save money on utility bills.