If you are looking for ways to freshen your home for summer, top designers are showcasing summer decorating trends that add color, give a feeling of coolness and lighten the look of your interior and exterior without spending a fortune. You can transform a stale, dark interior to a light-filled, cheerful living space by working with colors that refresh both inside and out. Add florals—either decorative or the real thing—to emphasize the season. Light colors set the theme, enhanced by the restrained use of dark colors to provide contrast and drama. 
Designers are also extending the living space by making use of the outdoors. Because summer is a popular time for outdoor entertainment, create outdoor areas for rest, food and fun. Both family and guests will enjoy gathering around picnic tables, firing up barbecue grills, dining al fresco and mixing drinks in an outside beverage area. As you look around your home, we hope you are inspired with these budget-friendly ideas to refresh your interior and enjoy the summer months.
Pare Down to Essentials
An effective way to create a feeling of cool breezes and summer weather is to pare down clutter. Owners of summer rental properties emphasize the beauty of a space by keeping only the essentials that add to the look. Do the same with your space. Take a good look at your interior, and imagine how it would appear if it were a summer rental. You can create the look of a charming beach house or mountain hideaway by removing non-essential items to create a light atmosphere.
Instead of a mantle full of photographs, add a basket of flowers and a mirror to amplify light. Remove heavy draperies that created a cozy winter atmosphere. Instead, let the light flow in. Open curtains during the early morning and evenings. Use sheers at windows to filter light during the daytime. If you live in a hot climate, sheers may not be enough keep out daytime heat. Go for lightweight materials like linen and cotton in light shades or florals. Big patterns work well on large windows and in large spaces. Large motifs also work well in small spaces if the windows are the focal point. Complement the look with cool colors on furniture, upholstery, throw pillows and scatter rugs.
Rearrange the Furniture
Create a new focal point in your living room or bedroom. Instead of having furniture face a fireplace, rearrange the sitting area to look out toward the garden. If you have attractive windows or French doors, use those as the focal point. Embellish them with curtains in colors that create the feeling of summer. Go with light colors at the windows, and enhance the look by using dark or contrasting colors for borders, trim or piping.
You can also create a new focal point in the bedroom. Rearrange the furniture to capture radiant, early morning light. If you have a balcony or nook off of your bedroom, relax in an easy chair to enjoy the evening as the sun dips below the horizon. Add a canopy of gauzy panels around the bed in white eyelet, linen or other fabric with a light and airy feel.
Make use of big verandahs or porches by moving a dining table to the porch for summer meals. For privacy, hang wooden blinds or curtains around the sides. Use patterns and colors that complement those of the interior to bring the look together. Ceiling fans can be used for cooling and to help keep mosquitoes away in areas that are not screened. Brightly colored table runners, napkins and placemats give a festive look.
Bring the Garden Inside
The scent of fresh flowers does wonders for a summer interior. Place summer blooms throughout the house in vases, baskets and pots. Group warm colors of radiant oranges, sunny yellows and hot reds to add cheer. For a look that cools and brightens a space, cluster flowers of white, lavender, light pink and deep purple. Guests will appreciate the added touch of flowers in a guest room.
Potted plants add greenery and bring the outdoors in. Use pots with interesting designs such as bold stripes or with bright colors that complement interior accessories. Large marine shells can be used as a mini-garden for succulents. Climbing plants need not be confined to gazebo walls. Install a wooden or metal trellis on an interior wall and let the foliage create an indoor jungle.
Make Use of the Outdoors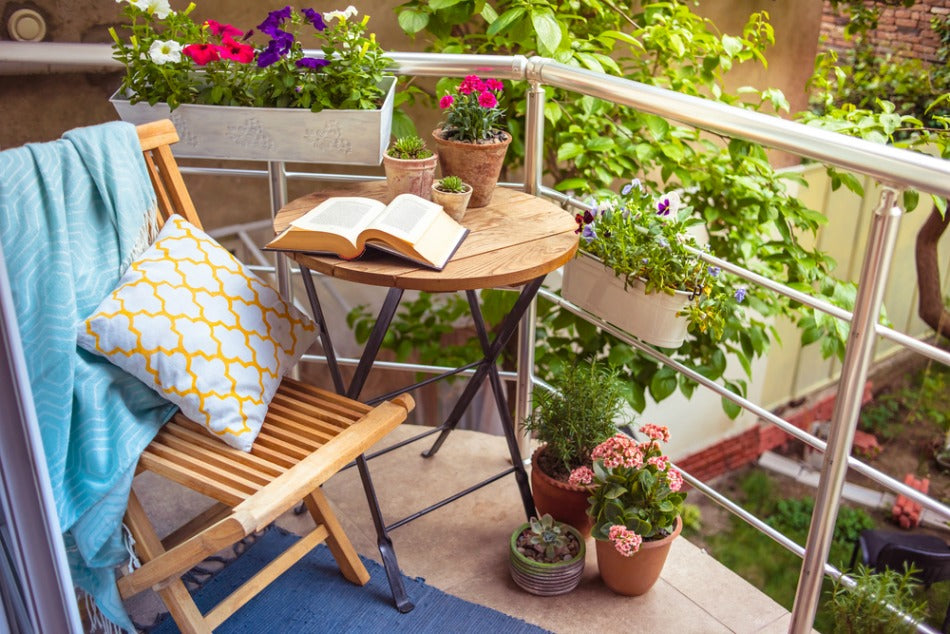 No matter where you live, you can capitalize on summer weather by embellishing outdoor areas for use during different times of day. Take the covers off the patio furniture and bring it all outside. For a zing of color, load furniture with cushions in bright florals and bold prints. If the furniture is looking tired from several seasons of use, give it a facelift with a fresh coat of paint. Go for light colors that evoke the best of summer, such as light blue, sunshine yellow, pale green or white. Wicker, rattan and bamboo give the feeling of summer. The materials weather well and can be painted. Wrought iron also works well as outdoor furniture. Paint it a light color and add oversized, bright cushions.
Outdoor lighting is trendy this year. Add exterior lights to jazz up evening get-togethers. Install string lights over a deck or in a gazebo. Hang paper lanterns over an outdoor dining area or patio, or light up your garden with tiki torches.
For a dreamy way to shield outdoor areas from the sun, add a canopy frame around a patio, pergola or poolside furniture. Hang gauzy, sheer panels that will billow in the breezes but keep direct sun away from the area. Hang a hammock between two trees or in a gazebo to while away the time on a lazy afternoon. Remake a porch swing by covering the seating cushion with a tablecloth and adding floral pillows.
A great way to keep everyone hydrated during hot weather is to set up an outside, self-serve beverage area. Children will love being able to concoct mocktails, smoothies or fruity drinks. Set up a countertop for snacks just outside the kitchen. You can modify a windowsill without major construction by adding a wide board or a piece of marble to create a casual snack station. A large picnic table seats a crowd for outdoor entertaining. For more intimate settings, a simple table and café chairs create a cozy space for outdoor dining.
Summer is a time for relaxing. Let your new decor be an inviting retreat for family and guests to enjoy the refreshing ambience inside your home. Extend your summer redo into the garden by creating spaces for play, socializing and rest.
Feel free to join in our Affiliate Programs