To many, tie up curtains are reminiscent of a bygone era, evoking images of Victorian parlors full of leather furniture, knickknacks and ornate window treatments. However, innovative adaptations of tie-up shades make them compatible with modern decorative styles ranging from minimalist to Bohemian.
Lightweight materials, chic drawstrings and a range of ways to hang them give a look of elegance to a formal room, pizzazz to a living room or a touch of romance to a bedroom. They can also be used to modulate light and privacy in kitchens and baths. An array of patterns, prints and colors make tie-up shades versatile and blend well in a modern design context.
What Are Tie-Up Curtains?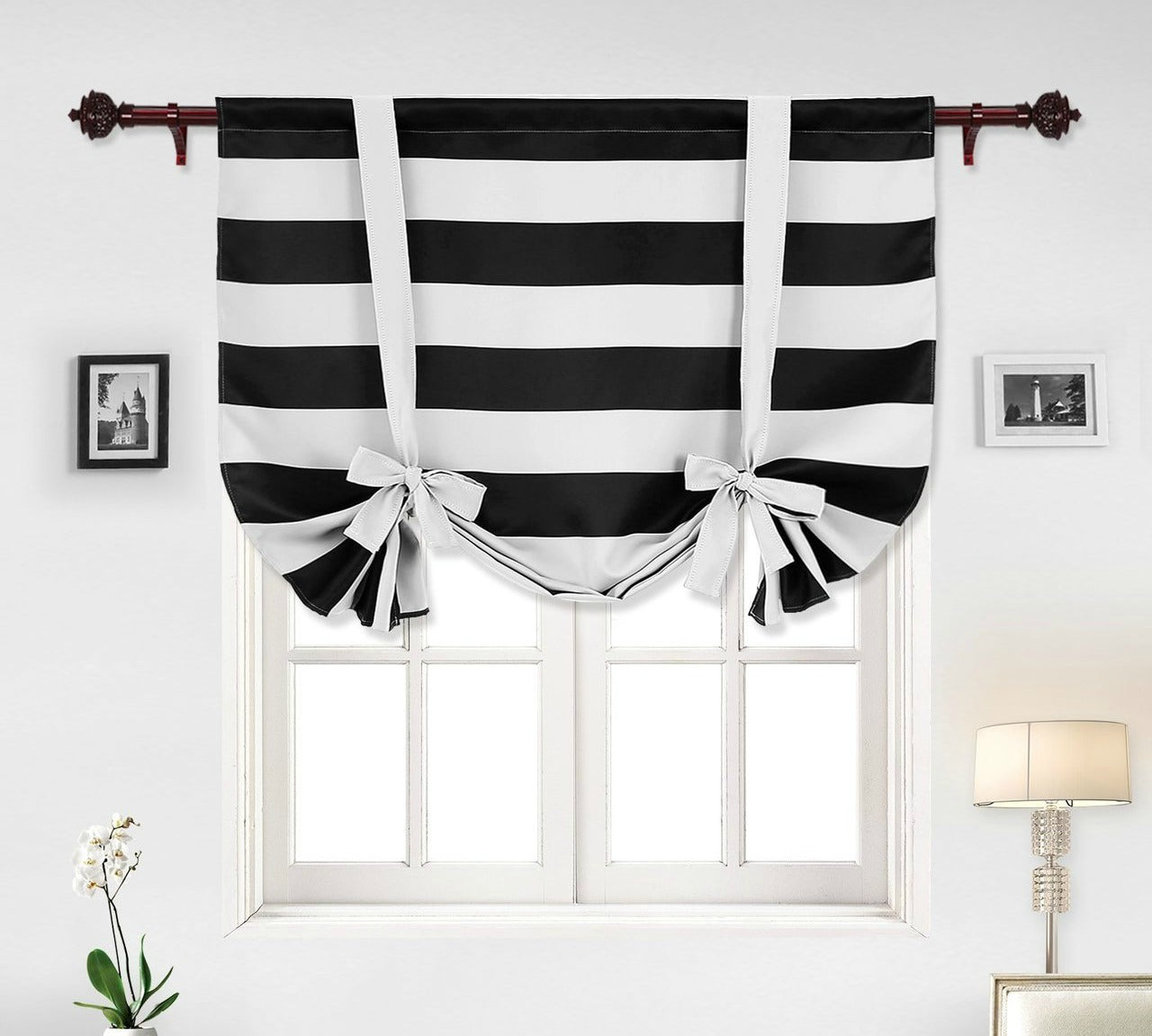 Tie up curtains, similar to London and balloon shades, are opened by pulling the curtain panel up from the bottom instead of drawing panels to the sides of a window. Strings, cords, ribbons, tapes or clips are attached to the curtain material to raise and lower the panel. Tie-up shades are soft and fall gracefully from the rod. Two or more bands spaced across the width of the panel create folds of wide scallops that can be adjusted into varying lengths for a dramatic effect.

More elaborate styles of tie-ups include Austrian shades and shirred balloon shades, which have shirred folds that form luxurious scallops when raised. The scallops are created by spacing shirring tape in regular intervals across the width of the material. Both Austrian and shirred balloon shades are suitable for wide windows.

Tie-up shades are attractive as stand-alone top treatments, such as valances and swags. They are also effective as panels without a top treatment. Pairing top treatments and panels is a classic combination that works with any decor.
Check out the best Curtains for your home. Click here!
Materials and Designs for Tie Up Curtains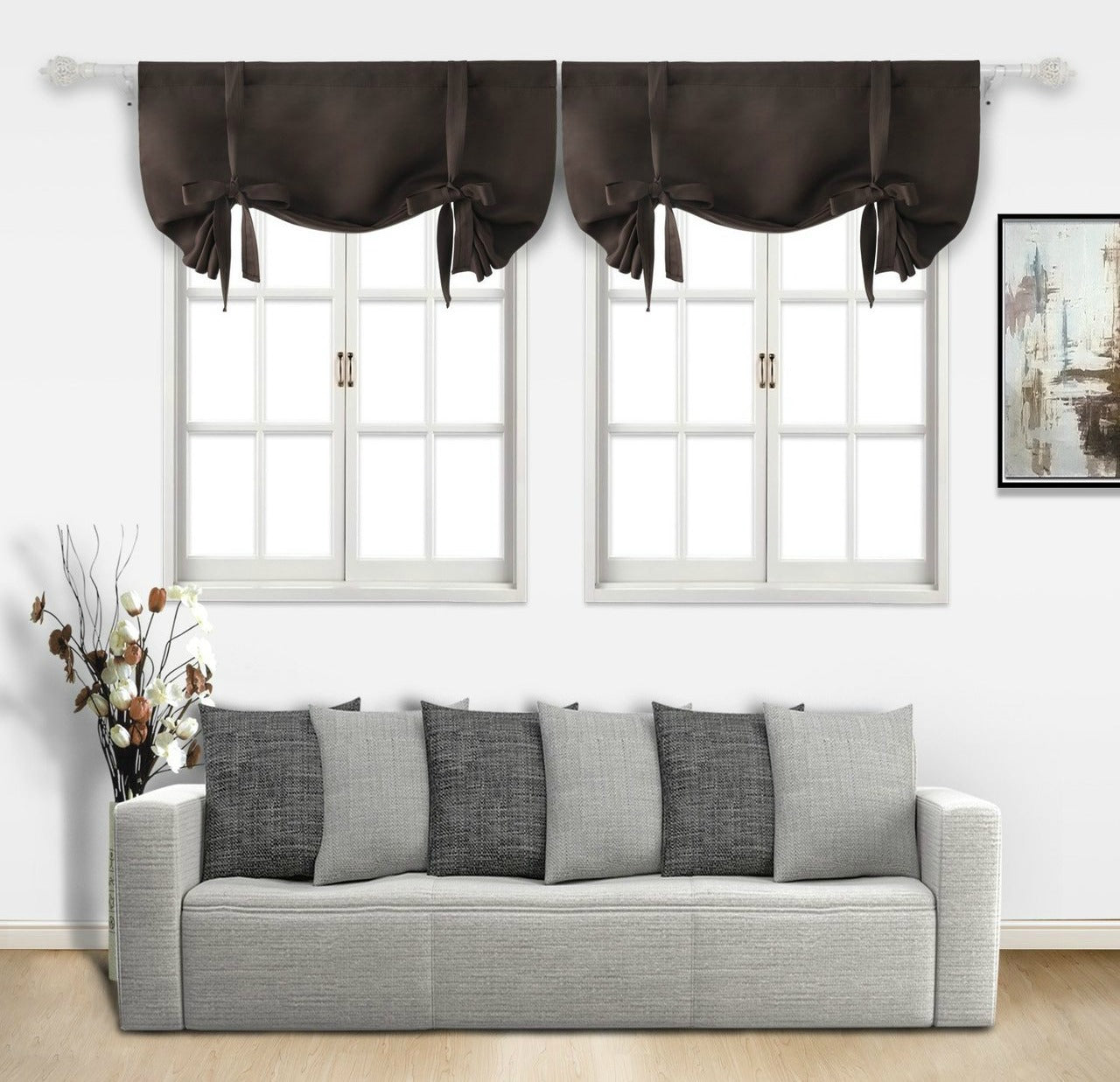 To get the folds that gives tie up curtains their distinctive look, lightweight fabrics work best. Soft materials, such as lace, sheer linen and translucent polyester, create a romantic look. Heavier materials, such as jacquards, lightweight silks and cottons, can also be used. Velvet and wool form soft folds. However, stiff materials will not create the folds that give tie-up shades their charm.

To use tie-ups in a modern design scheme, simply let your imagination run free. Look for bold geometric patterns in colors that complement the room. If your décor is understated, try black and white zigzags or wide stripes to draw the eye to the window dressing. For a romantic look, go for net curtains with ribbon ties. For a classic look, try traditional floral patterns. In casual decor, colorful tropical prints add a playful look. Other patterns that work with all types of décor include ikat and handblock prints.

Experiment with the banding that secures the panels. Colorful ribbon, custom-made bands, tasseled cord and fabric bows are a few ways to customize a look. The width of the band contributes to the design. For a sophisticated look, use a wide band in a solid color that contrasts with the panel's pattern. Fasten bands in the back with Velcro. For a romantic look, tie ribbons in bows in the front.

How to Install Tie Up Panels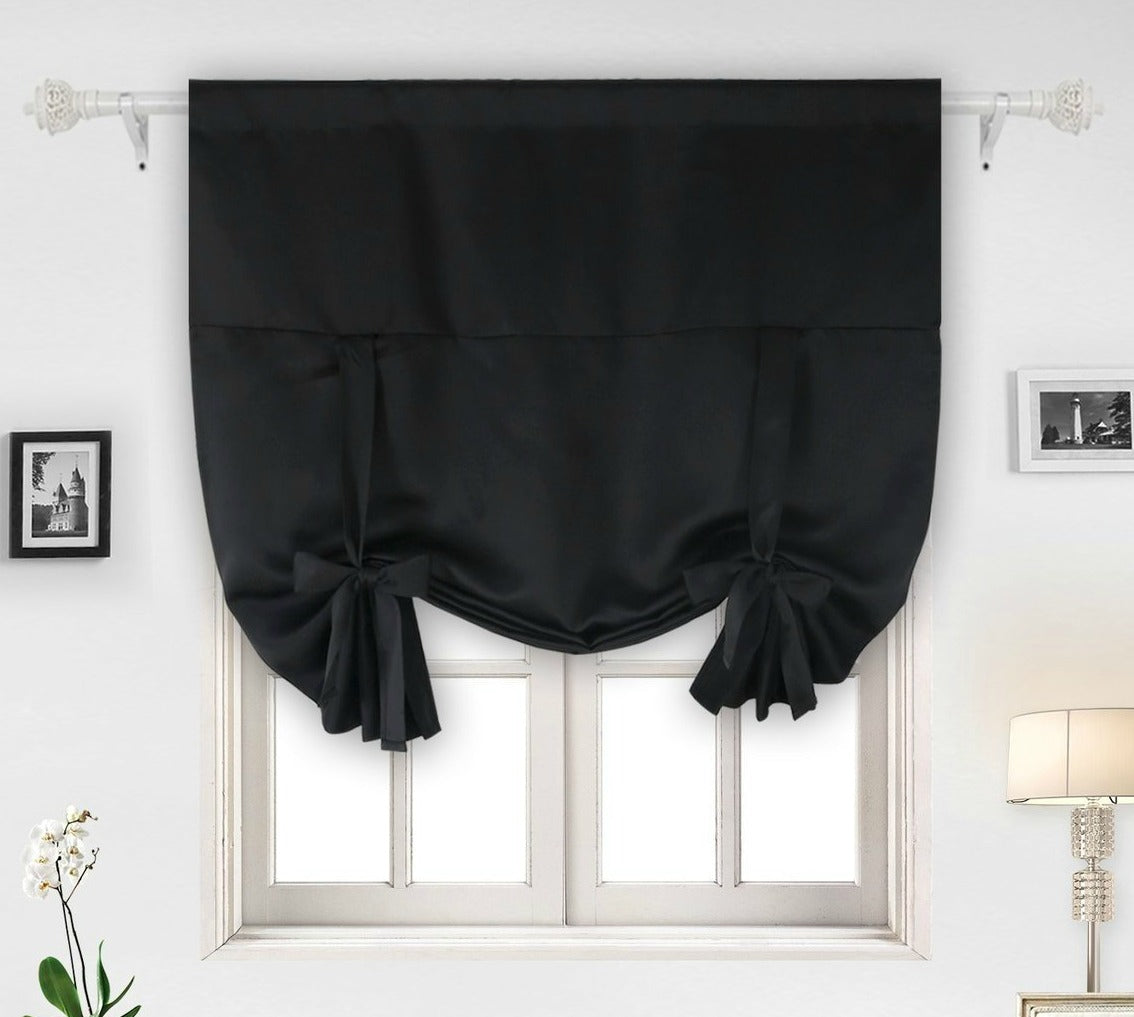 Panels can be installed inside the window frame next to the glass or hung across the frame. If you have small windows or want more light, install them across and above the frame. If you want to accentuate architectural detailing, install them inside the frame. For exterior mounts, curtains look best when the rod extends between 3 and 4 inches past the frame. The curtain wraps around the headrail and conceals the hardware. If there is not much wall space at the sides of the window, install them inside the frame.

Tapes can be sewn onto the panel or looped over the rod. When sewn onto the panel, the material can be raised to the level of the tape. Looping tape over the rod doesn't limit how high the curtain can be raised. To raise the shade, fold the cloth into pleats from the bottom up to the height you prefer. Secure each set of bands. You can also use clips that pinch the folds together. Adjust the fullness by easing the folds between bands. Adjust the fabric through the loops so the tails on each side hang evenly.

Tie-ups are available as ready-made panels, tops and sets in many designs and fabrics. They can also be custom-made to suit your decor. The simplicity of this curtain design works with any decorative scheme.
Feel free to join in our Affiliate Programs