Sheer curtains can be used in many ways to dress up a window or create a sense of breezy airiness to a room. They retain privacy while diffusing light during the daytime. Sheers can be used as the primary window dressing or be paired with other window drapery to add complexity to the décor. 
Today, sheers are available in a number of colors, patterns and fabrics, such as cotton, polyester, lace, voile and silk. This versatility makes them appealing for use in any room. Here, we give some ideas about how to hang sheer curtains in different ways to create a unique look for windows.
 P.S. Sheer Curtains are also known in the UK as Net or Voile Curtains.
Layered Sheers with Drapery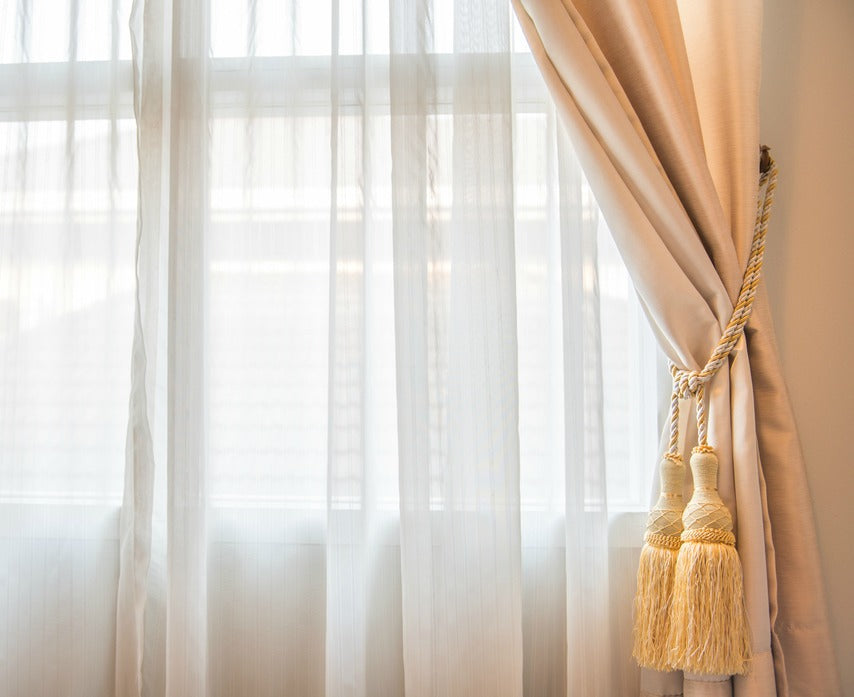 The classic use of sheers is as a partner with formal drapery. Layering lets you change the feel and look of a room by simply opening and shutting curtains. Sheers hung next to the windows let in warmth and sunlight during the day, add a touch of decoration and provide privacy. Heavier draperies hung inside the room can be opened during the day for light and closed at night for privacy and insulation against heat transfer.
Using two rods, one for the sheers and one for the heavier curtains, gives several options for both style and function. Double rods sets accommodate two curtain poles that are held in place with special brackets. The rod closest to the window is usually lighter and thinner because sheers weigh less. The inner rod is thicker to support the weight of heavier drapery. There are many styles, materials and colors of double rod sets.
For more versatility, use individual rods instead of a set. This option lets you chose a rod color, diameter and material that complements each set of curtains. The rods can be the same style or different styles. If you select different styles, tie the look together by matching color, material or decorative elements.
Slim rods work well with sheers because they complement the delicate look of the curtain material. Because sheers are transparent, the color of the rod may show through if the panels are a light color. If you don't want the poles to show, buy a rod in a color that matches the curtain. If you want to accentuate the poles, coordinate the rod color with other decorative elements in a room. Pick a dark rod to complement dark furniture, or chose a color that accentuates accessories or highlights a focal point. Brass rods enhance gold tones in a room. Crystal rods disappear and let other elements of the window treatment take prominence.
You can add detail by selecting finals that work with other decorative elements of a room. Finals range from classic ornamentation to whimsical, allowing you to tailor the look to match the room's decorative scheme.
Tiebacks, Swags and Valances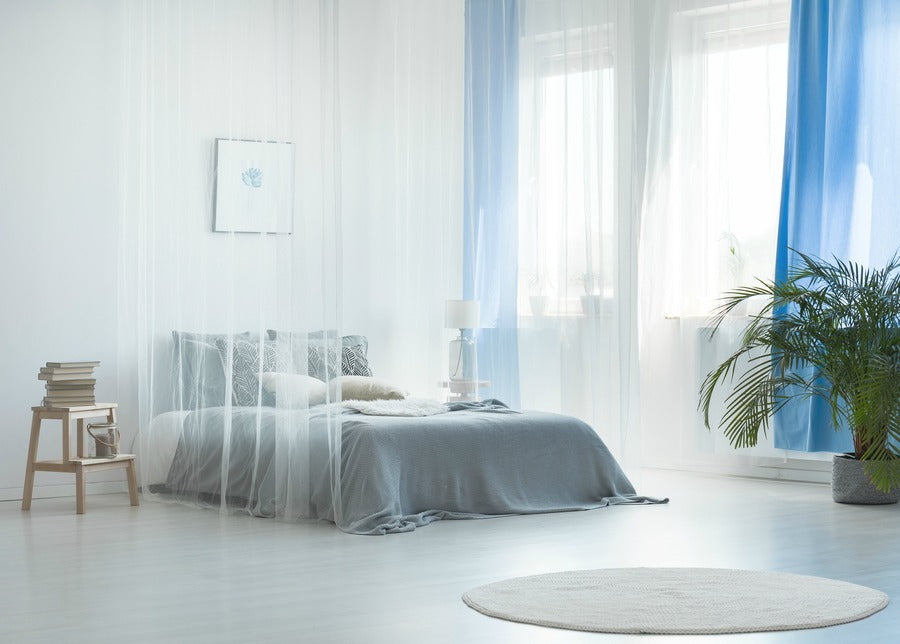 Sheers can be dressed up with tiebacks, swags and valances. Bows, cords or ribbons used as tiebacks add a romantic touch. If sheers are white or pastel, pick a color for tiebacks that is used as a secondary tone elsewhere in the room to bring out the minor hues.
Swags form a frame along the top and down the sides of a window. Swags in the same material and color of the sheers enhance the feeling of airiness created by sheers. Swags in a different color, pattern or material add contrast and drama to the window. Sheer swags look great with café curtains in a kitchen. They can also be used as a stand-alone window dressing without additional drapery. If privacy is needed, install a shade next to the window. During the day, the shade can be rolled up to let in light and air.
Valances can be used as a primary window treatment or paired with curtains. They can be made of any material, including wood, metal or fabric. Contrasting colors and materials add visual interest. Sheers can be hung as valances. For an elegant look, simply drape the sheer over the rod. Depending on the look you want, you can create a graceful balloon in the center or arrange a series of scallops along the width of the rod. Ready-made valances come in several styles from pinch-pleats to gathered rod pocket headers. Pick a style that goes with your curtains or overall interior theme.
Sheers are versatile, attractive and easy to install. Whether you work with a designer or on your own, sheer curtains can enhance a decorative style or create a focal point at a window. Mount rods according to the manufacturer's directions, and have fun in creating a look that makes a statement about your unique decorative style.