If you are installing new curtains, consider color, texture and style as you make your selection. Color can create drama, soothe or accentuate a decorative scheme. Texture is gives depth and interest to a room. Sheer Net curtains create a light, breezy look. Heavier weaves have insulating properties and create a formal look. Prints can be lively or complement other patterns in a room. Here, we look at options for red curtains and how to use them to express your personal style and create a unique atmosphere in each room.
Red is associated with passion, fire, power and strength. It is a warm color, symbolizing love and comfort. To many people, red signifies energy and happiness. Red with blue undertones is bold and exciting. Red with orange undertones is cozy and warm. Red checked curtains are traditional for kitchens, perhaps because of the association with life-giving and nurturing food.
Red Curtains for Living Room Windows
Because red is attention-grabbing, red curtains draw attention to windows. Use the windows either as a focal point or to complement other features in the room. You can use red in accessories, such as throw pillows and rugs, to carry out the theme. Red curtains in the living room will make the room feel vibrant and warm.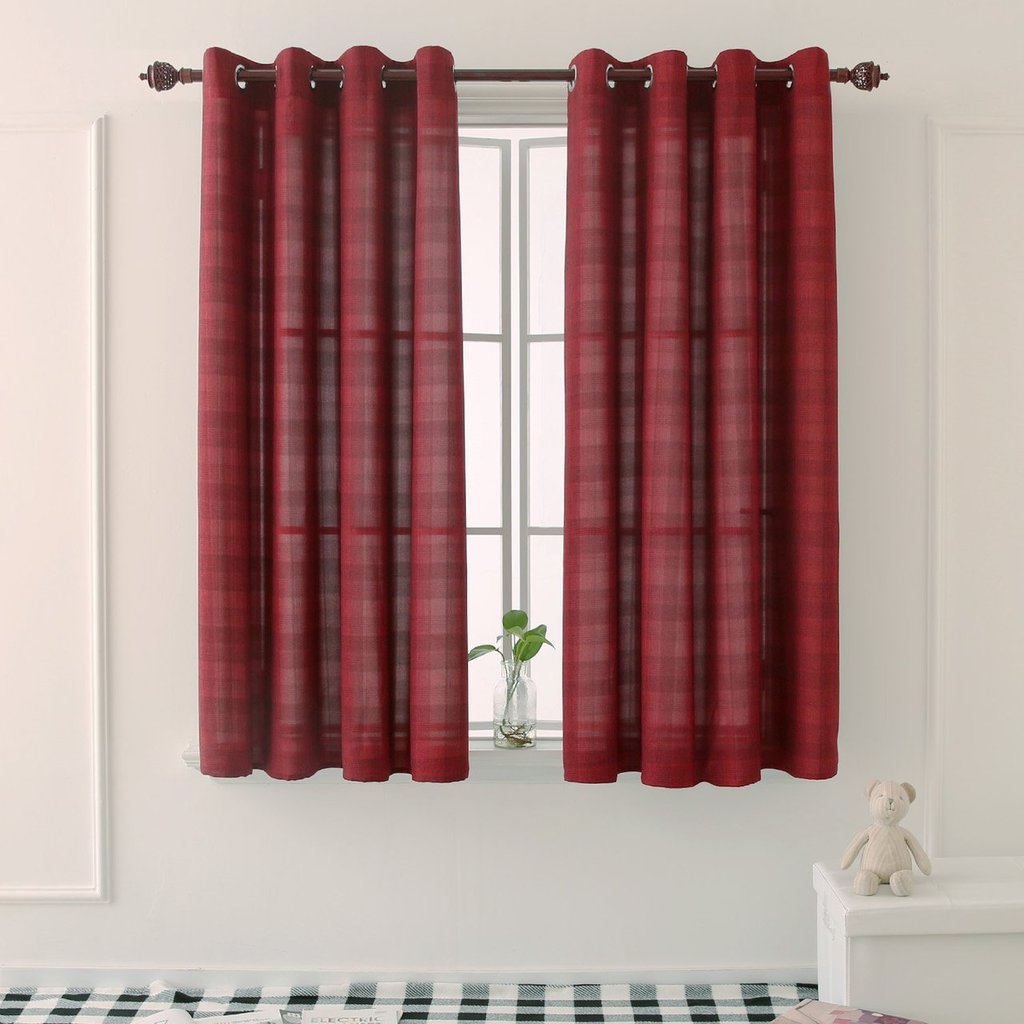 In this example, texture, understated pattern and crisp fabric give an elegant look to a window. The deep red color adds drama without overwhelming the space. The semi-sheer fabric allows light but gives privacy. The heavy weight of the fabric drapes beautifully. These curtains come in two lengths. For a more formal look, choose the floor-length style. The sill-length option frames the window.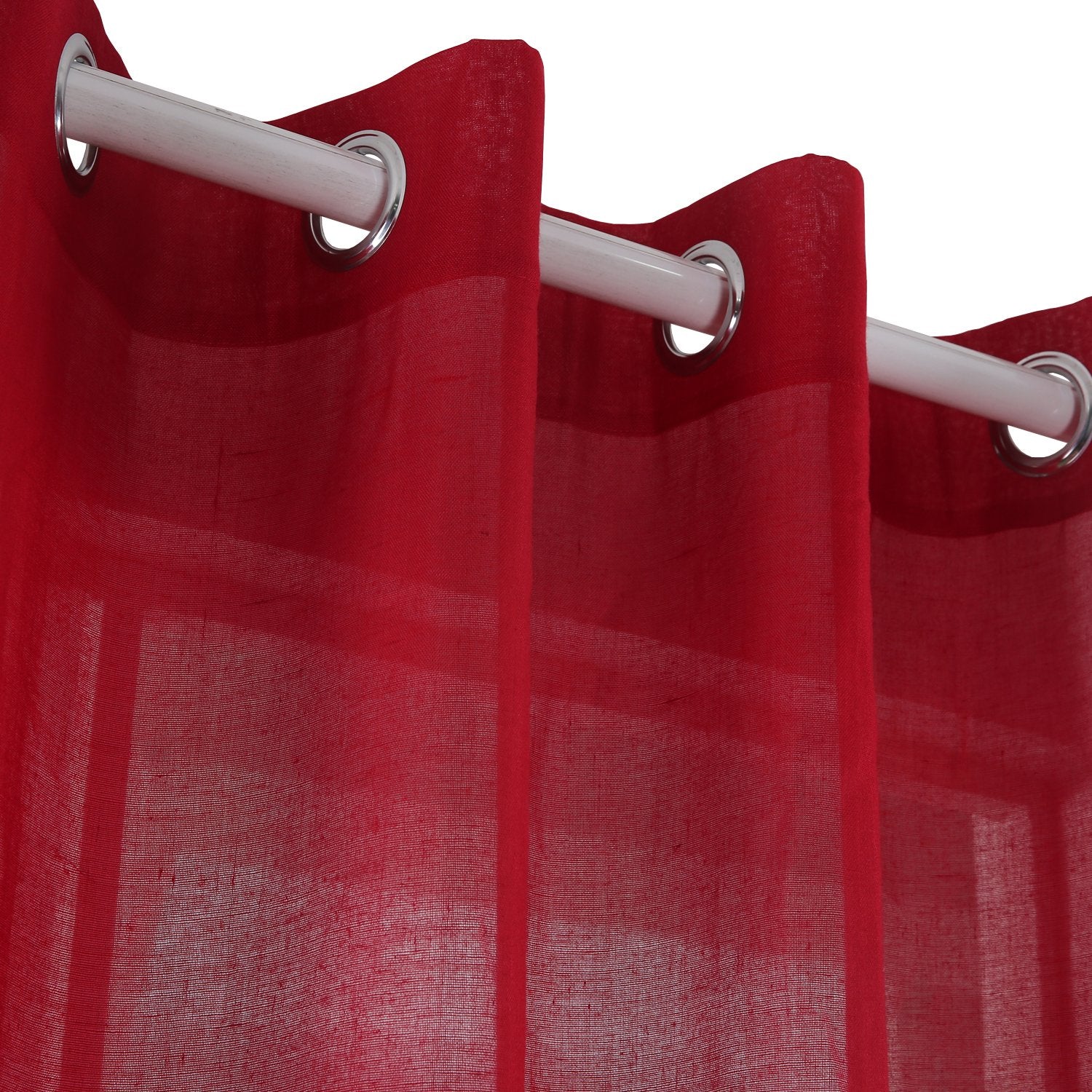 Pairing sheers with heavier curtains adds interest to a room. If you live in a climate with extremes of temperatures, pair sheers with thermal curtains. In hot climates, thermal curtains insulate against solar gain. In cold climates, they keep heat in. Use them to modulate heat and light throughout the day and night. Sheers give a light, airy look when the heavier curtains are open.
Red Curtains for Bedroom Windows
If you want to create a cozy bedroom, red curtains make a room feel warm and romantic. These red blackout curtains can be used alone, with sheers or with a valance. The rod-pocket style gives extra fullness at the windows, and the silky material creates an opulent look.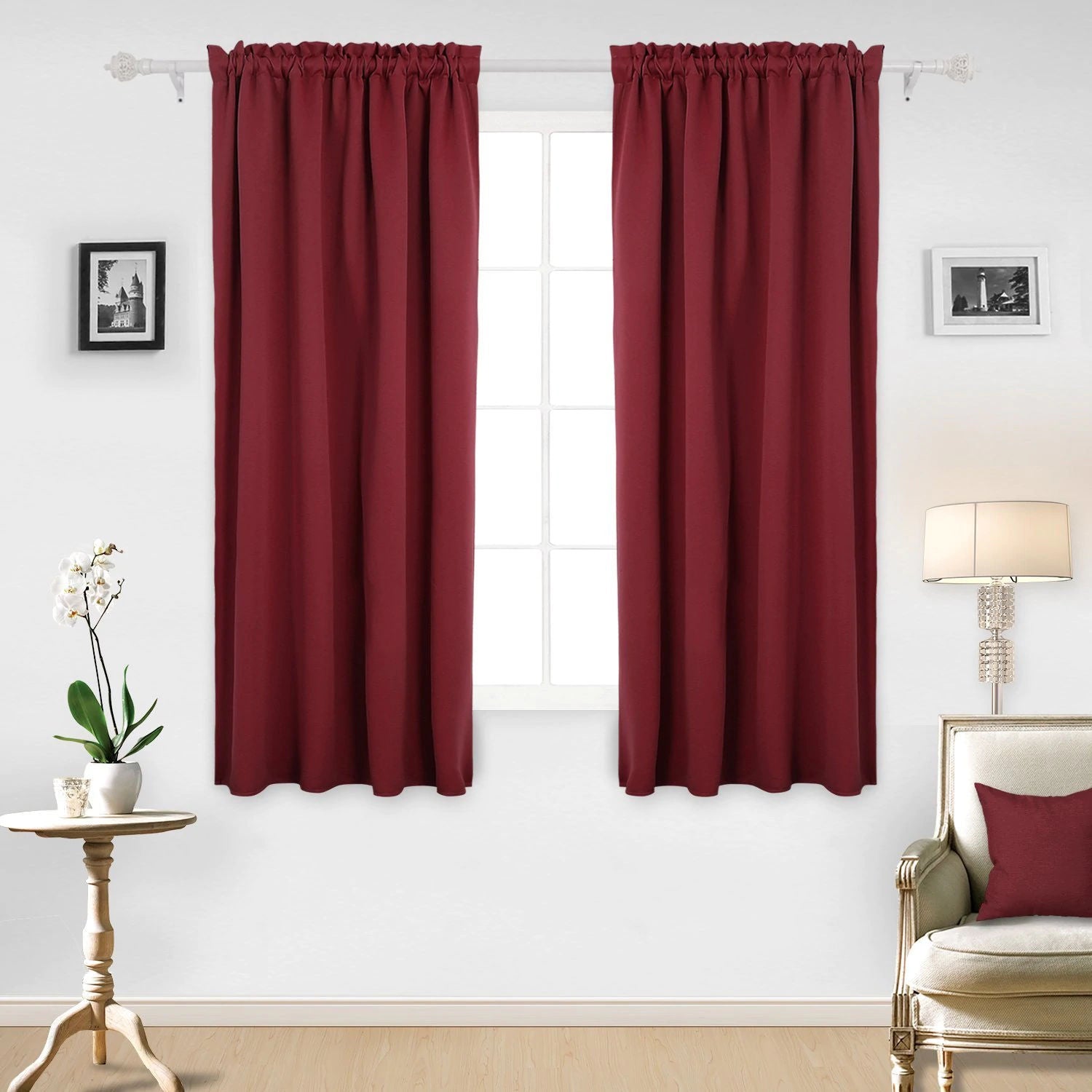 To enhance a romantic look, use sheer red curtains behind the thermal curtains. The wine-red color highlights the glow of sunlight, creating a dramatic effect.
Brighten a child's room with these lively Moroccan print curtains. The pairing of white sheers with patterned red blackout curtains gives many options for controlling light, sound and heat. The grommet top works well in a child's room. Another plus is that they are machine-washable.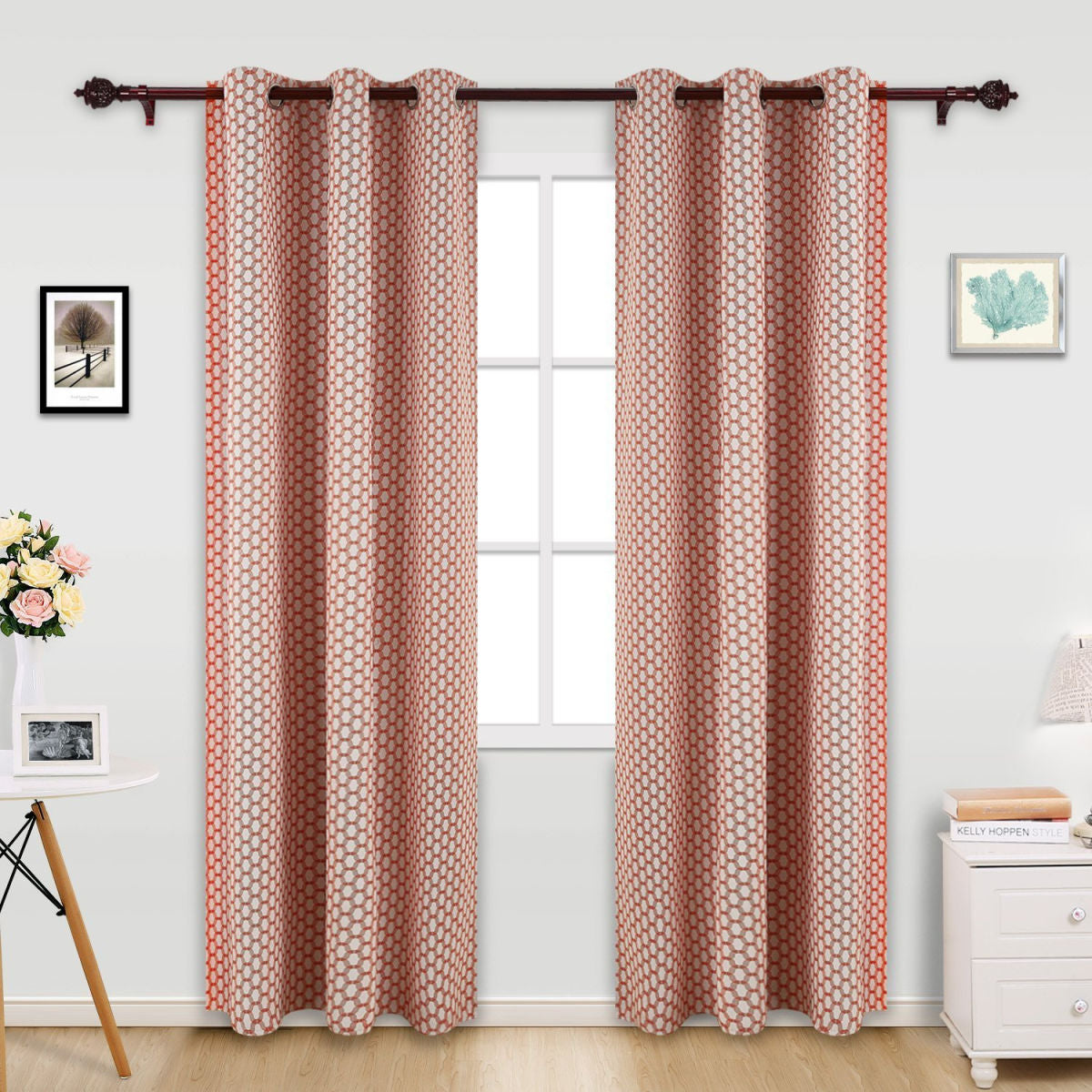 Red Curtains for Kitchen Windows
Rod-pocket café tiers give a classic look to kitchen windows, providing light and modulating privacy. Valances can be paired with tiers or used as a single window dressing. The rod-pocket style of these triangular red valance curtains works well with rod-pocket tiers. To use them as the primary window dressing, install two valance panels on the rod for a full look, or use a single one for a decorative effect. Use valances as a primary window dressing over work areas to avoid fire and splatters.
If you have several windows in the kitchen, try mixing styles. Tie-ups can be rolled down when you want privacy or rolled up when you want light. Using the same color with different styles ties the look together.
As you refine your design style, browse our selections to find curtains that create a cohesive look in each room. Texture, color, pattern and style contribute to the decorative effect in a room. The easy care fabrics of Deconovo window dressings make caring for curtains a breeze.