If you want to refresh the rooms of your house on a limited budget, there are ways to change the look and ambience of each room without breaking the bank. Here are affordable interior design ideas, some from top designers, that look awesome.
The most important steps in redoing interiors include defining your style, deciding what elements you would like to change to achieve the look you want and setting a budget.
Define Your Style
Take time to understand what you like. Browse Pinterest and find at things that appeal to you, and see what they have in common. It could be a color, a design motif or a characteristic from a period. As you plan what you would like to do, keep these characteristics in mind. If it's a color, define what shades work with the color. If it's a style, decide what elements of the room can be used to accentuate the style.
You may notice that you prefer different styles or want a different mood for each room, such as a cozy, intimate space for a dining room and a formal space for a living room. Don't feel tied to a single style. Transition between rooms with color, pattern or other elements to give a sense of cohesion even if the mood or style of each is different.
Set Your Budget
Some decorating ideas, such as repainting, cost relatively little. Others, such as buying new furniture or redoing a kitchen, can be expensive. By setting a budget, you establish your overall financial limit. As you plan and shop, you can adjust decorating changes so that you stay within your budget but still achieve the look you want.
Select Elements That Work With Your Budget and Style
There are several ways to implement affordable house design makeovers that transform a space for little money. Rearranging the furniture, changing the wall color, adding new accessories or hanging new wall art can make a strong design statement on a limited budget. Reupholstering dining chairs is much less expensive than buying a new dining set. If your heart is set on a new sofa for the living room, accessories can pull a look together without having to purchase an entire furniture ensemble.
If you inventory what you already have in each room, you can shift things between rooms to refresh each space. Move art from one room to another to create a focal point and add interest. Changing placement of lamps, vases, knickknacks and accessories changes the look of a room. New curtains can transform the atmosphere of a space. Color, design and the way the window treatment filters light make a big impact.
Lighting also affects the ambience of a room. Use lighting in layers, with ambient lighting to illuminate the entire space, bright task lighting for work areas and accent lights to highlight an area or object. Wall sconces, table lamps or floor lamps can add drama and interest with both the style of fixture and the light it creates.
Bedroom Design Ideas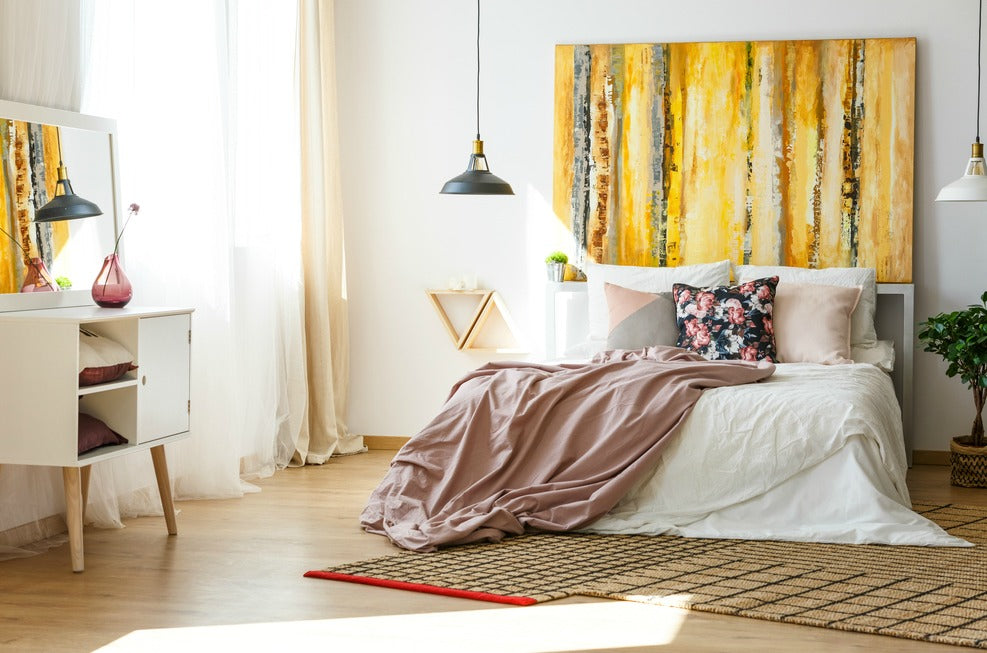 Deciding what mood you want to create in your bedroom will influence the changes you make. Whether you like waking up to morning sunlight or want an intimate, cozy retreat, new curtains, wall color and bedding may be enough to achieve the look you want.
Hang curtains

 

in layers, with sheers next to the window and heavier drapery inside. This modulates light and adds privacy. By opening or closing the curtains, you can change the mood of the room to complement your own mood.
Buy a new bedspread and curtains in compatible colors or patterns to pull a look together.
Move a chair and an ottoman to the bedroom, and place them next to a small table and lamp to create a cozy nook. Drape quilts or throws over the chair, or add an accent pillow to pull the decorative theme together.
Change the lampshades. If you are handy with craft materials, make throw pillows in patterns or colors that complement the walls or curtains, and affix the same material to a lampshade to balance the look.
Paint the walls a new color. For drama, use an accent color on one wall.
Refurbish the headboard of the bed. Cover the headboard with material that is the same as, or complements, other patterns in the room. Pad the material with batting and add tufts or buttons for a romantic look. For a rustic look, hang repurposed wood on the wall behind the bed. Create visual interest by orienting boards on an angle for a chevron pattern or use picket fencing to accentuate a vertical line.
Shop for furniture bargains at flea markets and thrift shops. Sometimes paint is all that is needed to refresh an older piece.
Living Room Design Ideas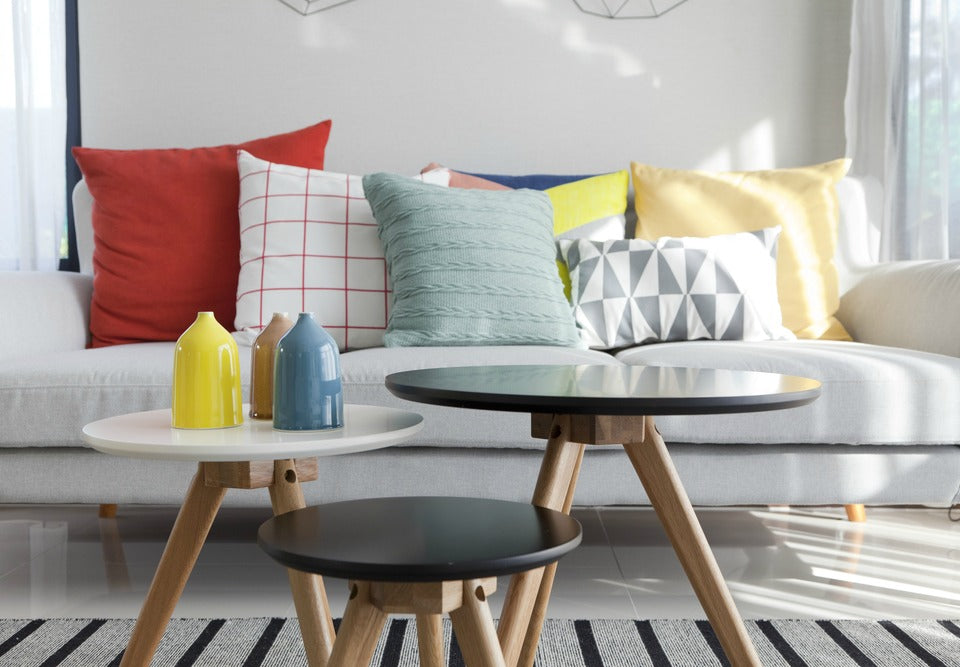 Once you know what mood you want your living room to have, decorating can be enjoyable and easy. Start by defining a focal point, such as an attractive window, a fireplace, a work of art or an entertainment center.
Rearranging furniture is a free, fun way to update a look. Furniture doesn't have to be lined up against the walls. Orient furniture toward the focal point, and arrange pieces to support the activities that take place there, such as socializing, reading and entertainment.
Use area rugs to define spaces. Ideally, the rug should be large enough to allow the furniture to sit on it. If not, large pieces such as sofas should have the front legs on the rug. Small pieces should be completely on the rug.
Look for cushion covers in contrasting colors and textures to accentuate your sofa and lounge chairs. Cushion covers

 

are a quick and cheap way to add a splash of color.
If your flooring needs updating, consider using several throw rugs to hide damaged or unattractive places. One top designer pieced rug remnants together for a one-of-a-kind look. Choose a single color that visually ties the room together, or select pieces in complementary colors that match accessories.
Buy new lampshades for table lamps that complement other elements of the room. Echoing a pattern in the room or adding texture can refresh the piece without much expense. Use spotlights to focus light on an attractive object. This draws the eye away from places that may be less attractive.
Wall art can transform a so-so room into one of interest. One bold wall hanging can add color and serve as a focal point. If you have a small living room, install a large mirror to add brightness and make the room seem bigger.
If the living room serves as an entertainment center, consider layering curtains to modulate light. Use blackout curtains

 

to darken the room when needed. Open them to display lighter layers next to the window for visual interest.
Kitchen Design Ideas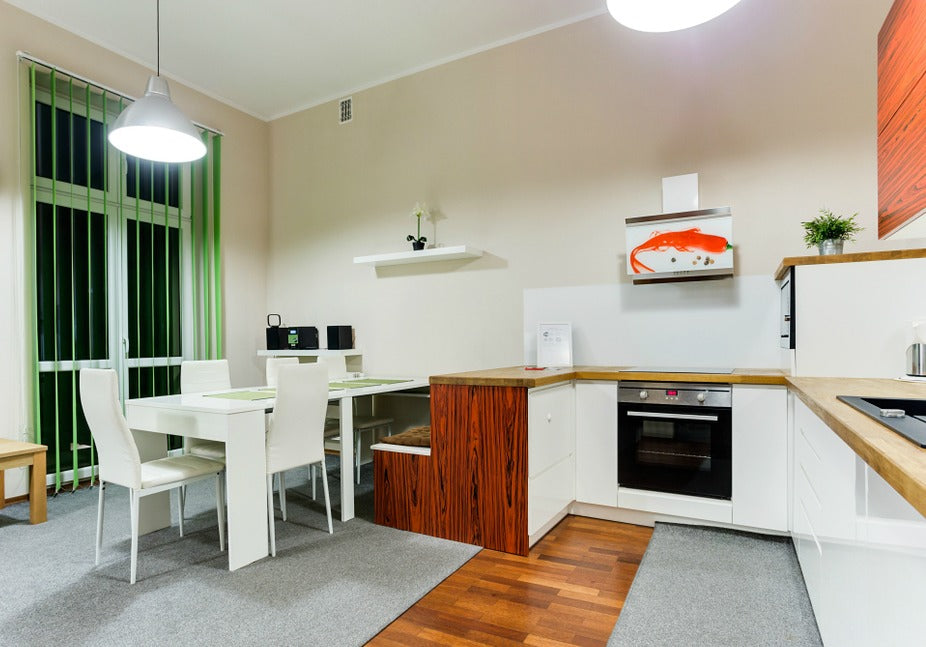 It's easy to overspend on a kitchen redo. If you stick to your budget as you refresh and update, you can get an entirely new look that makes your kitchen look like a million when it actually uses cheap interior design ideas.
As with other rooms, paint can transform a space. Use white or other light colors for ceilings and cabinets to increase brightness. The many shades of white range from creamy to crisp. Select one that complements other colors in the room and accentuates the décor. If white becomes overwhelming, pick another color for walls. Trim can be painted a contrasting shade to tie together the colors of cabinetry, floors and walls.
Change the hardware on drawers and cabinets. Stainless steel gives a modern, clean look. Brass gives a classic look. Chrome and nickel complement faucets and other hardware. Long pulls give a clean horizontal line and can double as towel racks.
Add pendant lights over the sink, island and table.
Change the window treatments. Bamboo shades add texture. Try a Roman shade in a bold color or pattern to accentuate a window.
Add butcher-block countertops. The hue of the wood adds warmth and gives a professional look.
Use throw rugs to define an area or protect flooring in high-traffic areas.
Add a backsplash in an eye-catching material such as glass, stainless steel or colorful, raised-relief ceramic tiles.
Change a few solid cabinet doors to glass panels. To add color, display crockery or dishes. Line the inner cabinet with a colorful or patterned wallpaper.
Hang a pot rack to save cabinet space and give easy access to cooking utensils. Materials include copper, stainless steel and wrought iron, each creating a different look.
Add under-counter lights to illuminate work areas.
Don't forget wall art. Anything goes, depending on your style. Handmade samplers provide a homey, country touch. Look for old signs and posters at flea markets for a retro look.
Bathroom Design Ideas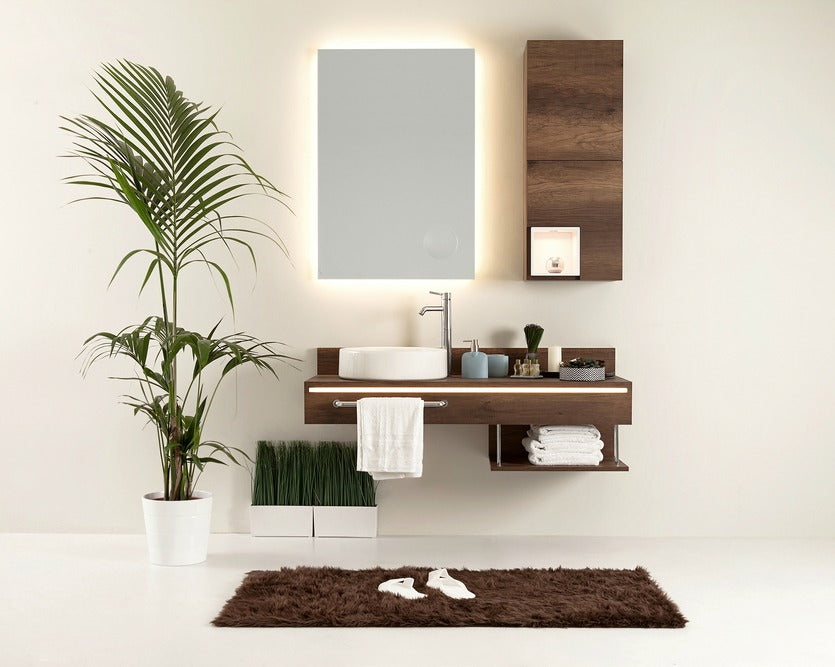 There are many ways to update a bathroom without replacing expensive fixtures. Think about the style and color of fixtures, countertops and backsplashes, wall tile, flooring and paint. Take the time to analyze what changes will create a cohesive look. New window coverings and shower curtain, paint, a new vanity, eclectic storage ideas and updated lighting can transform an outdated bathroom into one with pizzazz.
Paint is an inexpensive way to refresh and update. Paint trim in a color that contrasts with walls, flooring and fixtures.
Although tile can be expensive, judicious use of tile can transform a bathroom. Tile one wall from floor to ceiling to create an accent wall. It will also make the room look taller.
Use the same fabric for window treatments and shower curtain. Use a liner to protect the fabric.
New towels and bath accessories in colors that complement other elements of the room will freshen the space.
Update towel racks, mirrors and cabinet hardware.
Be creative with lighting. Replace an outdated over-sink light with one with sleek lines in a modern material. Wall sconces can be used as vanity side lights. Dimmers soften bright light if you want a relaxing soak in the tub. Look for fixtures that go with the overall style of the room for a finishing touch that pulls it together.
There is never too much bathroom storage. Install open shelving in the vertical space over the toilet. For small spaces, try glass shelves. Flea market finds such as small bookshelves or cabinets can be painted and placed in corners.
If your budget allows, replace an old vanity with a pedestal sink, a glass vanity top or a sink with a sleek design. Use the new fixture as a focal point to draw the eye away from less attractive ones.
If tile flooring looks worn, re-grouting is an inexpensive way to revitalize it.
With planning and a bit of research, you can transform each room of your house from drab and stale to vibrant and attractive. If you tire of a look, rearranging the furniture, redoing window treatments and moving accessories to other rooms are simple ways to refresh a space. 
Feel free to join in our Affiliate Programs