Your master bedroom should be your sanctuary, a place of retreat to relax and recharge. No matter how large or small the space, you can create a cozy place to unwind, read or luxuriate in privacy.
Start by creating a focal point such as the bed, an attractive window, a fireplace, a piece of furniture or a reading nook. You can use colors, designs and textures to coordinate the elements of the room and pull the room together. Decide on the predominant mood you want to create, and choose color and accessories that enhance that mood. Here are a few ideas to start you on your way to creating a restful, personalized bedroom retreat. 
Choose Your Palette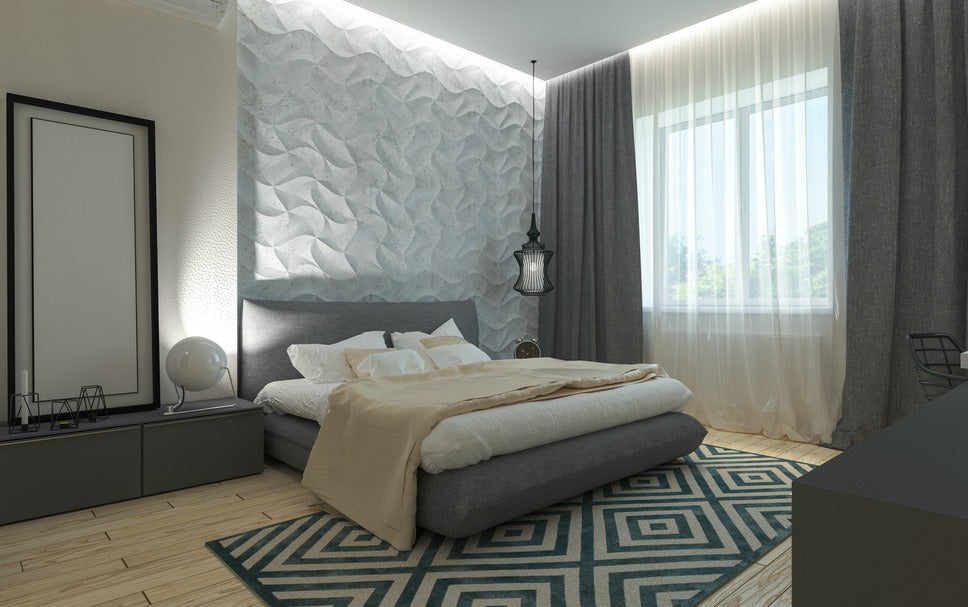 Select colors that appeal and contribute to the sense of serenity that you want to create. Tone down the shades for a soothing look. Paint walls in light, soft shades such as peach, pale greens, soft yellows or light blues. Neutrals in shades of cream, grey, gold and tans work well also. Keep the palette limited to restful shades and minimize busy patterns.
If your furniture is dark wood, add a few touches that highlight the wood without overwhelming the space with dark color. Light bed linens with borders or patterns in dark brown play up the wood. Floral curtains in colors that complement the walls and bedding soften the look and pull the palette together.
If you want vibrant elements, use complementary shades in stronger colors for trim, accessories or window treatments. Vibrant blues, shades of orange or strong greens can be used for throws, pillows or wall art. Upholstered chairs and foot stools can echo both the soft and vibrant shades. Accessories such as lamp shades and carpets can also be used to add color and bring a look together. A bold, printed rug will add a dramatic touch and enliven your bedroom retreat. Mirrors can be used to accentuate light, make a room look larger or create a focal point.
Modulate Light
You may want full sun streaming in your bedroom during the day for natural light and a cheery environment. But there may be times when you want to block light for rest or to change the mood. Window dressings complete the look of a room. Here, you can go for drama if you have been restrained elsewhere.
Layered window treatments let you modulate light. Lightweight fabric curtains, Roman shades or wooden blinds can be installed near the glass for a decorative touch and to soften daylight. Hang heavier curtains in thicker materials toward the inside the room. During the day, open them for air and light. At night, close them for privacy and to darken the room. Heavy fabrics also serve as a thermal barrier, important in the winter to block cold drafts and in the summer to reduce solar gain. Several types of fabric work well for heavy drapery, including velvet, brocades, linen and wool. Accessorize the curtains with whimsical tie backs, poles, hooks and finials.
Light fixtures strategically placed can be used for ambient light, mood lighting and task lighting. Top designers scour flea markets and garage sales for older fixtures that can be reused. Try converting old kerosene or gas lamps to electric pendant lamps, wall sconces or table lamps for a nostalgic look.
A chandelier over the bed creates a focal point and adds ambient light. Chandeliers need not be expensive tiers of crystal drops. Whimsical fixtures often feature motifs such as flowers or birds crafted in wrought iron, steel or other metals that can be painted to match the room's palette. Pendant lamps create a different effect. Cover a pendant lamp in burlap for a rustic look.
Matching table lamps on each side of the bed add symmetry. Table lamps can be made of almost any material. If you want a soft look, go for crystal or glass. If you want to add color or interest, be creative with textures and materials. Chrome desk lamps on a bedside stand can be adjusted to focus light on a book. Wood, ceramic and porcelain are attractive materials for lamp bases that can be topped with an attractive shade.
Rejuvenate Furniture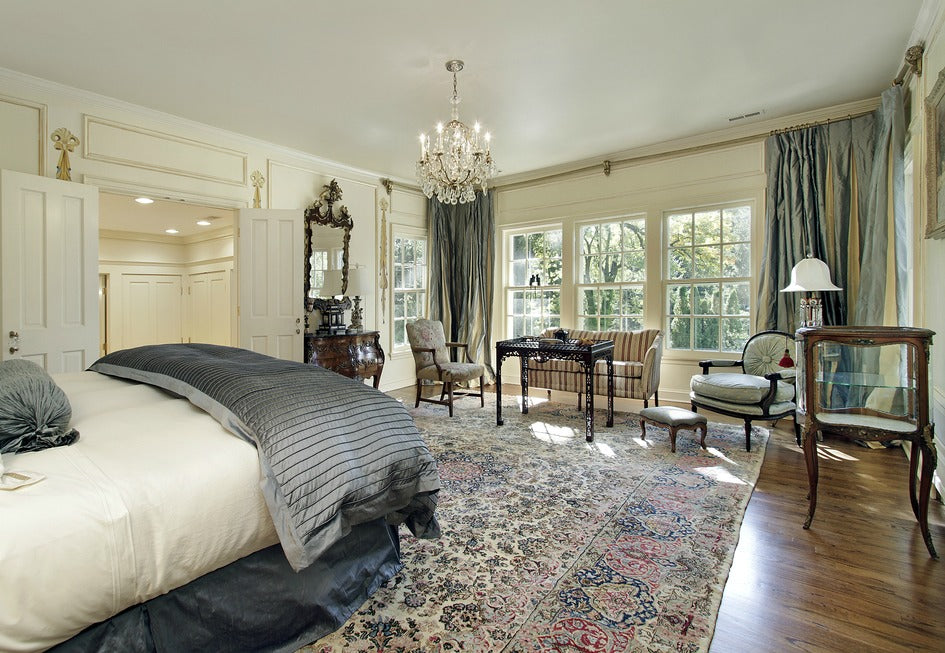 Rejuvenating furniture can transform drab, outdated pieces into chic, attractive pieces. Paint, new hardware and imagination are all that are required. If you have a four-poster bed, add a canopy rail around the top and hang curtain panels. Update the bed skirt and other bed linens to match the panels.
If you like to read in bed, a padded headboard adds softness to the head of the bed. You can use a neutral, solid fabric for a serene effect. If you want to highlight the space, bold patterns and bright colors work well here. Materials that add interest to a headboard include leather, velvet and satin. For an easy transformation, make a slipcover that fits over the headboard.
Other furniture can be painted in colors that complement the décor or stripped of old varnish to expose wood. Changing hardware can give an old dresser or nightstand a new look. Paint wicker or cane chairs and add a colorful cushion in a pattern or colors that harmonize with the rest of the room.
Create a Cozy Nook
Many people enjoy the sanctuary and quiet of their bedroom for writing and reading. Some have even removed all electronics, including telephones, computers and televisions, to optimize the sense of retreat from the world. Create a cozy nook for activities that you enjoy. A rejuvenated secretary can be used to write letters, serve as a small bookshelf or house personal mementos and trinkets. A comfortable chair, side table and floor lamp create a pleasant reading corner.
As you decorate, let your tastes and personality shine through. You can create a personal sanctuary even on a tight budget if you let your imagination soar.
Feel free to join in our Affiliate Programs