A child's bedroom serves many functions besides sleeping. A kid's room should be cheerful, well-lit and include space for activities. Several designers recommend dividing a child's room into three sections if space allows: one for sleep, one for projects and one for play.
Young children need a large expanse of floor for play. Older children need a study nook, bookshelves and comfortable seating. Storage is a necessity for kids of all ages. Most importantly, the room should be a place to be active, creative and have fun. 
As you start decorating, include your children in the process. Many parents find that if their children's tastes and interests are incorporated into the decorative scheme, they will be more likely to keep the room organized and clean. Here are a few fun, affordable decorating ideas for children's bedrooms.
Color, Pattern and Light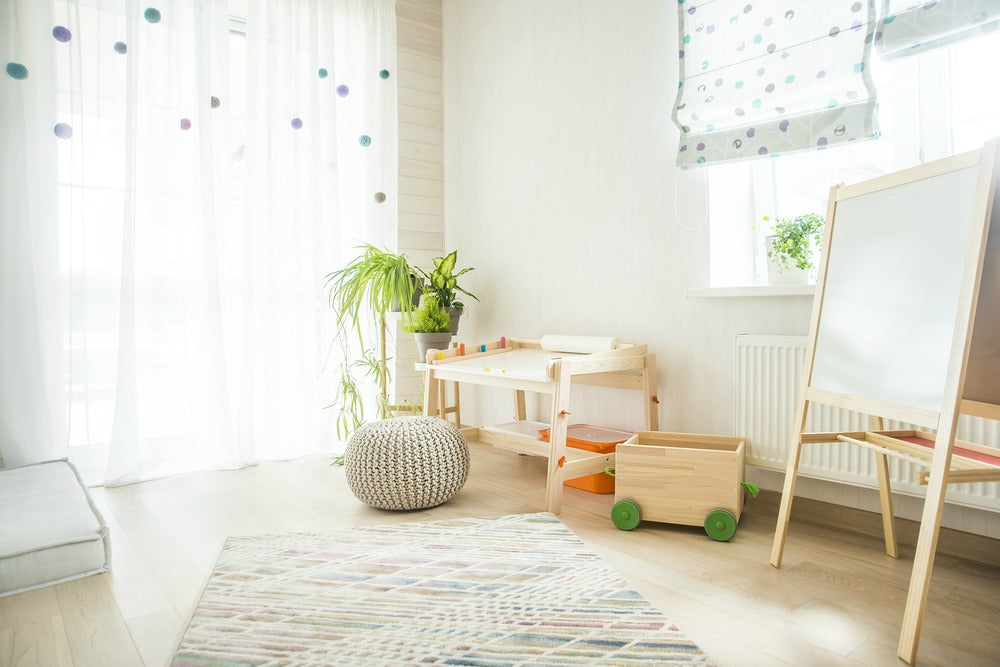 A brightly lit room is essential for children's activities. However, a bedroom must also be soothing and calming when it's time for sleep. Using layers of curtains at the windows lets you modulate light throughout the day. Use sheers or lightweight curtains in patterns or colors that complement the room décor next to the windows. There are many colors and patterns of ready-made curtains for all styles of windows. Use room-darkening or blackout curtains on the inside. During the day, the blackout curtains can be pulled open to let in light and air. The lightweight panels at the windows add color and interest to the décor. At night, pull the heavier curtains shut to darken the room.
If your child has a favorite color or special interest, such as a cartoon character, outer space, butterflies or dinosaurs, incorporate these designs into the room's decorative theme. Bedding, window treatments, wall decals and a few knickknacks can display the theme. If interests change as your child grows older, it's easy to make modifications without a lot of expense.
Walls can be painted in colors that suit the decorative scheme and the child's taste. Neutrals form a backdrop suitable for almost any interior. If you want to go with color, have fun. Choose shades that are cheerful and appealing. Look at the undertones, which may vary from blue to yellow to green. Make sure they complement the other colors in the room. If you are unsure, bring swatches home and compare them to the colors of objects in the room. For drama, paint one wall a bright color that complements the rest of the room. Other fun wall treatments include wallpaper, fabric, stencils and murals.
Floor coverings should be practical, durable and easy to clean. However, some flooring, such as wood or tile, may need to be cushioned for comfort or safety. Area rugs are a great way to delineate space or add color and design. If you live in a cold environment, carpeting adds warmth to a floor. Low pile carpets are easy to clean, are less likely to harbor allergens and let chairs and toys slide easily over the surface.
Shared Rooms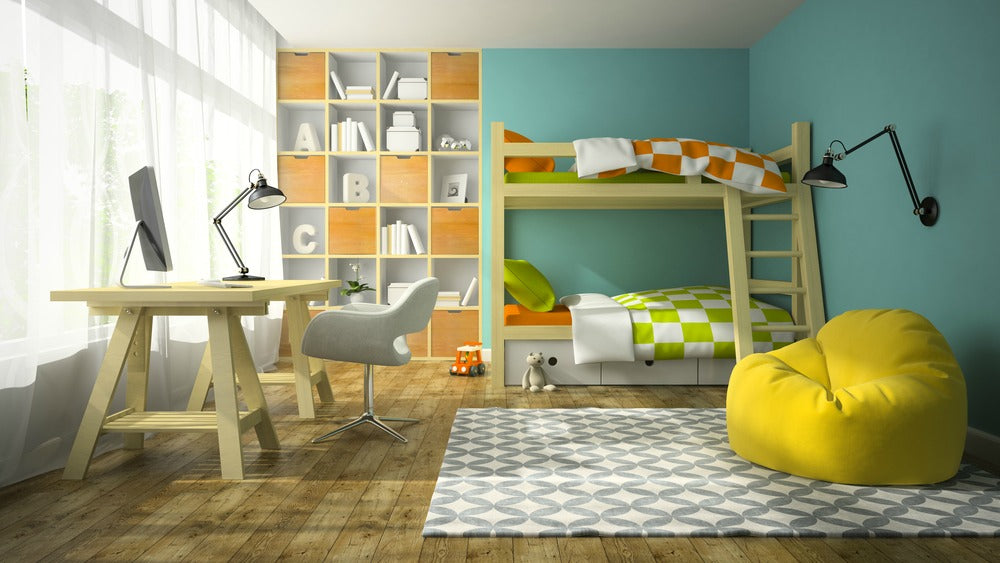 Shared rooms can be challenging to decorate, particularly if the children have different tastes. One way to customize a shared space is to separate twin beds with a curtain that can be drawn between them. The curtain adds privacy and creates a cozy nook. If space allows, place beds on opposite walls and hang curtains from track rails along the length and ends of each bed. Each child can control the opening and closing of the curtain. The look is dramatic and fun.
Another way to individualize a shared space is to install canopies or tents over the beds. Although canopies are available commercially, they are also easy to make as home craft projects using sheets, fabric or curtains. A simple design is to install hooks in the ceiling over the head of the bed and hang ready-made tab curtains from the hooks. To secure the curtain to the wall when it is not extended, customize the look with ribbon, hooks or ornamental metal holdbacks.
Another fun look is to install decorative hooks high on the wall and gracefully drape sheers or lightweight fabric between the hooks and down the walls. For a neat look, make a box cornice using scrap wood. Cover it with the same fabric used in the room for curtains, pillows or other accessories. Secure the cornice high on the wall with brackets and staple sheer curtains or fabric to the inside of the box.
Bunk beds are a practical way to utilize space. If both children like the top bunk, rotate the schedule of who gets to sleep on top. There are many configurations of bunk beds. Some have built-in storage such as drawers and shelves, useful spaces for books and toys. Lofts, trundles and daybeds are more ways to use furniture to conserve space and add storage or play areas.
Storage Ideas
It seems that there can never be too much storage. Bins, crates, trunks, bookshelves, drawers and wall shelves are among the most common ways to store toys, clothing and other goods. For young children, open shelving installed low on the wall gives access to toys. It also makes it easy to put things away. Toddlers enjoy putting objects into receptacles. For an inexpensive way to store toys, get plastic buckets in bright colors that match the room. Make a game of tossing blocks or other toys into the buckets. Small children will enjoy the game without knowing that they are also tidying up.
Although it's enjoyable to create a wonderland for a child's play and sleep area, the bottom line is practicality. It must be safe, utilitarian and easy to clean. When your children participate in the conceptualization and implementation of the design, you help them explore their own ideas and taste. They also will get a practical lesson in what works and what doesn't. You and your children can come up with other creative, innovative ways to customize a room for little cost. By keeping it simple and functional, you can create an attractive room suitable for play, sleep and projects.
Feel free to join in our Affiliate Programs