If you are looking for ideas to decorate your guest bedroom, focus on comfort and a welcoming atmosphere as you choose your colors and furnishings. Each of your guests will have different tastes, but all of them will enjoy luxuriating in a comfortable bed with fresh, crisp linens.
Add a chair, a bedside lamp for reading and a place to park a suitcase to round out the conveniences any guest will appreciate.
The trick to making the room feel warm and welcoming lies in the way you pull it all together. Window treatments, wall color, rugs and a few accessories can be tailored to make a cohesive design statement that reflects your taste and budget. 
Choose the Theme
Your guest bedroom may be an attic space, a converted verandah, an extra bedroom or a separate guest house. If you incorporate the prominent features of the space into the design theme, you can accentuate the charm and distinct elements of the room to advantage. An attic may have a sloped ceiling, bead board walls or old wood flooring. Capitalize on these features, and bring them into the décor. From rustic to industrial, use the attributes of the space to define the style.
If the spare bedroom is small, use furniture and accessories that work with the limits of the space. If a double bed overwhelms the space, try a four-poster bed. Although it may take up most of the floor space, it can be used to create a cozy nook. For a dramatic effect, hang attractive curtain panels as a canopy over the bed. Directional wall lights installed on each side of the bed accentuate the feeling of a space within a space. Alternatively, place a large mirror above the head of the bed to reflect light, and place small nightstands on each side with table lamps. Go with lightweight window curtains to allow natural light to flood the room during the day. If privacy is an issue, add a layer of heavier drapery on a second curtain track that can be closed at night.
Porch makeovers often end up with lots of windows but not much wall space. Use the windows to advantage to accentuate the charm of a verandah conversion. To modulate light, try Roman shades or matchstick blinds installed next to the glass. Use window coverings that diffuse light and add privacy without hiding the windows. Beds placed on either side of a window ensure that both areas have natural light. Add a table under the window for access from each bed. Padded headboards let guests sit up in the bed with comfort. Add a decorative chest at the end of each bed for storage or a place for a suitcase. If space allows, a free-standing armoire can serve as a closet.
Guests always appreciate a sitting area. A desk or side table, lamp, comfortable chair and footstool create a small reading nook. If space is an issue, place a bench, storage ottoman or trunk at the foot of the bed or below a window. Add comfortable pillows and, voilà—you have an inexpensive, practical seating area for your guests.
Select the Colors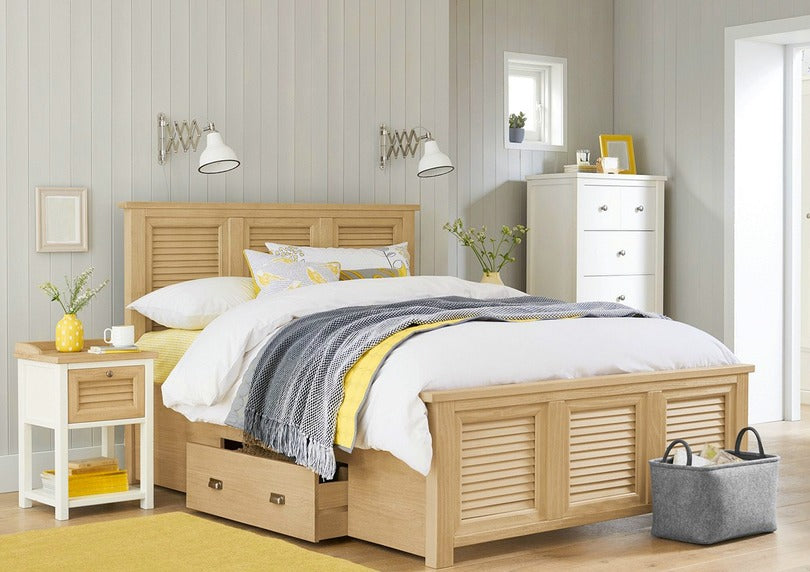 Decorating a guest bedroom is a chance to express your unique style. Colors enhance the theme and set a mood. If the room has wood floors, walls or ceilings, there are many ways to accentuate the texture and warmth of the material. Let the natural wood tones serve as a backdrop for splashes of color elsewhere in the room.
Wood walls may already be painted. A fresh coat in a light shade, such as white, a neutral tan or light grey, sets a light palette that can be embellished with as much color and pattern as you like throughout the rest of the room. Checks and floral patterns are classic choices. An eclectic mix of textures, colors and patterns from every continent add depth. The restrained geometry of a black-on-white Berber tribal rug and a lively, geometrically patterned bed skirt complement each other.
Eggplant, Turkish blue and chocolate brown are a few popular choices that work well on walls. If you go for dramatic wall color, temper that with softer shades in window coverings, bedding, carpets and accessories. Another favorite is to paint the ceiling a dramatic color that contrasts with somber walls. The ceiling color can be echoed in accessories such as throws, lampshades, bedding and upholstery. A sisal or jute carpet in a neutral color and pure white sheets provide a harmonizing contrast to moody wall colors.
If you are not sure about how to balance colors, use the 10-30-60 rule. Use a dominant color in 60 percent of the space, a secondary color in 30 percent and an accent color for the remaining 10 percent of the space. If you go for dark walls, pick a bright accent color that complements the dominant color for accessories, trim or wall art. Try metallics, such as copper, silver or brass, that reflect light and add zing. We've also written about picking curtain colors.
Add Accessories
Accessories individualize a space. Window dressings, pillows, bed linens, family heirlooms and wall art interspersed throughout bring warmth and add a personal touch. Here, you can play with colors, textures and patterns. Colors can complement the walls or be coordinated with window curtains. Create a focal point in the room, such as wall art, an antique piece of furniture or a fireplace. Choose accessories that complement the colors and textures of the focal point.
Your decorating efforts will make your guests feel that you are welcoming them into a personalized retreat. You will be satisfied that the space is transformed to a visually rewarding and comfortable part of your home. After your guest bedroom decorating adventure is complete, you may want to change rooms.
Feel free to join in our Affiliate Programs